By R.V. Baugus
The City of San Diego shared in a press release that the San Diego Convention Center will be utilized as a haven to protect homeless individuals during the ongoing Coronavirus pandemic. The plan will create more space to serve people experiencing homelessness and allow for adequate physical distancing within current shelter facilities.
"San Diegans from all walks of life right now are struggling as we cope with the impacts of COVID-19. We're only

going to get through this pandemic by taking care of one another and working together," Mayor Kevin Faulconer said in the release. "San Diegans are wondering how they'll pay rent and small businesses are trying to stay afloat while some of our most vulnerable living on the streets seek protection from this virus. We're turning plans into action to get all San Diegans the relief they need."
Already, 55 families moved from the City's Bridge Shelter on the upper level of Golden Hall operated by Father Joe's Villages to two motels using some of the 200 rooms that were secured by the County for the Regional Task Force on the Homeless for homeless individuals. Additional updates will be provided as they're made available.
"We have an unprecedented multi-agency collaboration that is working very quickly to rebuild our system to prevent the spread of COVID-19 among our homeless population while at the same time continuing to provide top-notch service to residents," Kohler said. "We are thinking creatively to stand up new shelters, expand our capacity and maximize our staffing resources to serve the needs of both our sheltered and unsheltered populations."
Other IAVM convention center members are also stepping up to help their communities.
McCormick Place in Chicago will transition into a makeshift hospital to treat about 3,000 patients by April 24, with 500 beds to be available in the coming week, according to the head of the Army Corps of Engineers, Lt. Gen. Todd Semonite.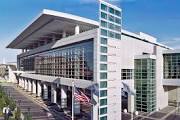 The venues Hall C, with assistance from FEMA, will treat 500 people, while Hall B will handle 750 patients, and Hall A would host some 1,800 individuals needing greater care.
"Somebody once said, 'Let's go build a hospital in the middle of a parking lot.' You can't do that in two or three weeks, and we don't have any more time than two or three weeks," Semonite said in a release.
"The city is working in partnership with the state of Illinois, the Army Corps of Engineers, FEMA and MPEA to develop capacity for a large quantity of hospital beds to serve residents in need of care as COVID-19-related hospitalizations are expected to surge in the coming weeks," a Chicago Department of Public Health spokesman added in a statement. "The temporary health site at McCormick Place will function as a field hospital, providing a large quantity of beds, including 500 anticipated to come online in the coming week. We remain focused on working in partnership to build up resources and staffing for this site and across the system so that we can combat COVID-19, alleviate added stress to our hospitals and health care workers and ensure patients across Chicago receive the care they need."
Meanwhile, the Kay Bailey Hutchison Convention Center in downtown Dallas will be the site of Texas' first pop-up hospital to treat coronavirus patients, Gov. Greg Abbott announced Sunday. With Dallas County representing the most virus cases in the state, the venue will set up 250 beds at the outset with the ability to increase. As of Sunday, the county reported 488 cases of the virus.
"Existing hospitals will continue to be the primary location to treat and care for those in need," Abbott said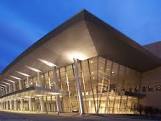 at a news conference. "But we must prepare for the worst-case challenges as they arise."
While that number of beds are not required yet, both the governor and an Army general said that the operation could house up to 1,400 beds if needed and that the Corps of Engineers has placed large-scale medical kits and equipment at the convention center ready for use.
The expectation is for the beds to be set up by Tuesday, while a homeless shelter is already in use at the venue.