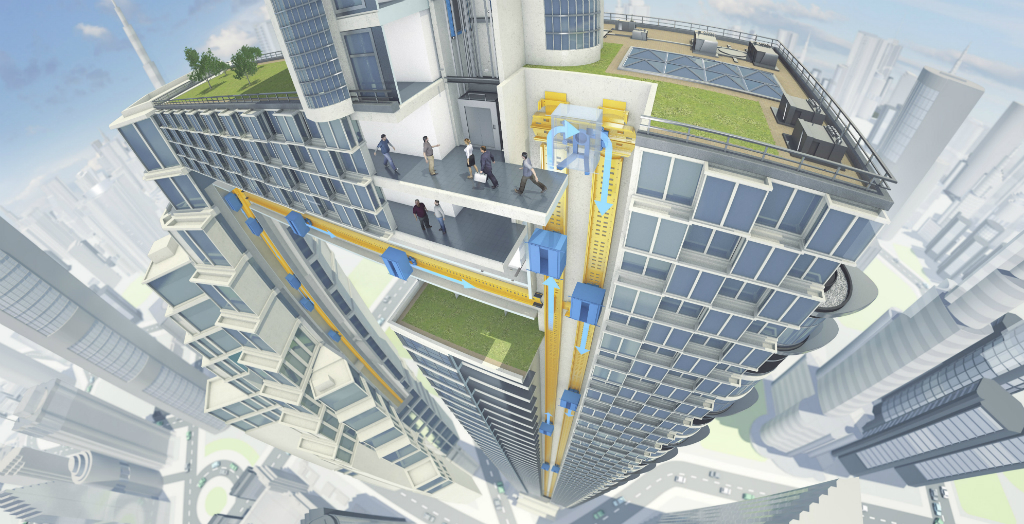 Our long, 160-year nightmare of rope-dependent elevators is now over, claims a German elevator company.
"Now, the long-pursued dream of operating multiple cabins in the same elevator shaft is made possible by applying the linear motor technology of the magnetic levitation train Transrapid to the elevator industry," the company, ThyssenKrupp, said in a statement. "MULTI will transform how people move inside buildings."
The MULTI design can include different self-propelled elevator cabins per shaft running in a loop. Through this, a 50 percent reduction in the elevator footprint in a building can be achieved.
"Using no cables at all, a multi-level brake system, and inductive power transfers from shaft to cabin, MULTI requires smaller shafts than conventional elevators, and can increase a building's usable area by up to 25 percent," the company said. "The overall increase in efficiency also translates into a lower requirement for escalators and additional elevator shafts, resulting in significant construction cost savings as well as a multiplication of rent revenues from increased usable space."
A test tower will be completed in Rottweil, Germany, in 2016.
"As the nature of building constructions evolve, it is also necessary to adapt elevator systems to better suit the requirements of buildings and high volumes of passengers," said Andreas Schierenbeck, CEO of ThyssenKrupp Elevator AG. "From the one-dimensional vertical arrangement to a two-dimensional horizontal/vertical arrangement with more than one or two cabins operating in each shaft, MULTI represents a proud moment in ThyssenKrupp's history of presenting cutting-edge transport technologies that best serve current mobility needs."
(Image: ThyssenKrupp)