When it comes to meeting destinations, San Diego is among the top choices for planners and event professionals. Cvent's 2018 ranking of top meeting destinations around the world ranks San Diego as the fourth top spot in the United States.
Cvent, a national meeting software and services company, is the world's largest platform for sourcing meetings and events. According to their press release, the meetings industry is strong. "More events are being held all over the globe," according to Cvent which "highlights the overall strength and positive impact the meetings and events industry has worldwide."
Here is the list of the top 5 cities from the survey:
Orlando, Florida
Las Vegas, Nevada
Chicago, Illinois
San Diego, California
Atlanta, Georgia
"We hear our customers tell us time and time again that San Diego is about the whole package," said San Diego Convention Center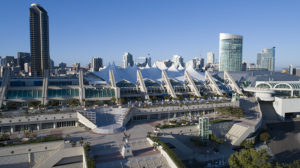 Corporation President and CEO Rip Rippetoe, CVE. "Meeting planners say they choose the San Diego Convention Center because we go above and beyond to provide excellent customer service, plus our city boasts beautiful scenery, perfect weather, world-famous attractions and thousands of hotel rooms, many within walking distance."
The San Diego Convention Center is a LEED Gold certified venue which also gets high praise from our customers. They want to host meetings at venues that are sustainability leaders. Just this summer, for the first time, the Convention Center's food and beverage team worked with our long-time customer Esri, whose events team began the effort of "zero plastics" during their meeting. (Read the story here.)
In addition, the San Diego Convention Center just underwent $25 million in infrastructure upgrades, with the most visible improvement being a new LED lighting element in the newly renovated Sails Pavilion, a 90,000 square foot iconic meeting space.
The San Diego Convention Center is a part of a thriving tourism ecosystem and a growing innovation economy. Meeting planners are able to host events here and take advantage of our region's biotech, life-sciences and technology sectors, as well as our international connections with Mexico," Rippetoe said. "Even San Diego's world-famous craft beer culture proves the destination is thriving with opportunity for innovative business ventures.
"The cities featured in this year's Top Destinations lists have invested significant time, energy, and resources into building premier locations that entice organizations, large and small, to plan meetings and events in their areas," said Chris McAndrews, Vice President of Marketing for the Cvent Hospitality Cloud. "With meetings representing more than 13 percent of total travel and tourism spending and generating $845 billion in sales in the U.S. alone, they have become a major economic driver for these markets."
Rankings were determined by a set of qualifying criteria including unique RFPs received, RFPs awarded as well as total room nights and room nights booked.
In fiscal year 2017, the San Diego Convention Center generated $1.1 billion in regional impact and produced a record 844,382 hotel room nights. Hotel and sales tax revenues equaled $25.4 million, and those funds go directly to the city's general fund to pay for police and firefighter salaries as well as paving of city streets.