The San Francisco 49ers have reached an agreement with the NFL to play two upcoming home games at the Arizona Cardinals' State Farm Stadium after new COVID-19 directives implemented by local health authorities ruled out events at Levi's Stadium.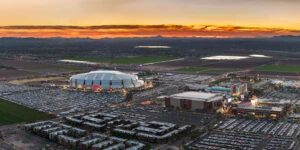 The 49ers' games against the Buffalo Bills on December 7 and Washington Football Team on December 13 will both be held at State Farm Stadium after a deal was struck with the NFL and the Cardinals.
In a statement, the 49ers said that the Cardinals, State Farm Stadium and NFL officials had been supportive and accommodating as the team worked through the "many logistical issues" involved in relocating games.
The 49ers had been seeking a base for its upcoming home games after new rules imposed by the Santa Clara County Public Health Department placed a temporary ban on recreational activities that "involve physical contact or close proximity to persons outside one's household, including all contact sports."
The directives, which were introduced following a spike in COVID-19 cases in the region, began November 30 and will be in place until at least December 21. The 49ers are also due to host the Seattle Seahawks on January 3, with a decision on the location for this game to be made later.
The 49ers have been without their fans at Levi's Stadium this season and in October the team decided to continue this policy despite the State of California permitting spectators in outdoor venues for professional sporting events in counties with low COVID-19 infection rates.
The 49ers will play three games at State Farm Stadium this month, with its away game against the Cardinals scheduled for December 26.