By Paul Pettas
Sodexo and Centerplate are hosting a webinar entitled Convention & Conference Centers Reimagine Live Events, on Wednesday, July 8, at 11 a.m., Eastern Time, with IAVM First Chair Rip Rippetoe, CVE, featured as the guest expert.
In the midst of never-before-imagined circumstances, convention and conference centers have an opportunity to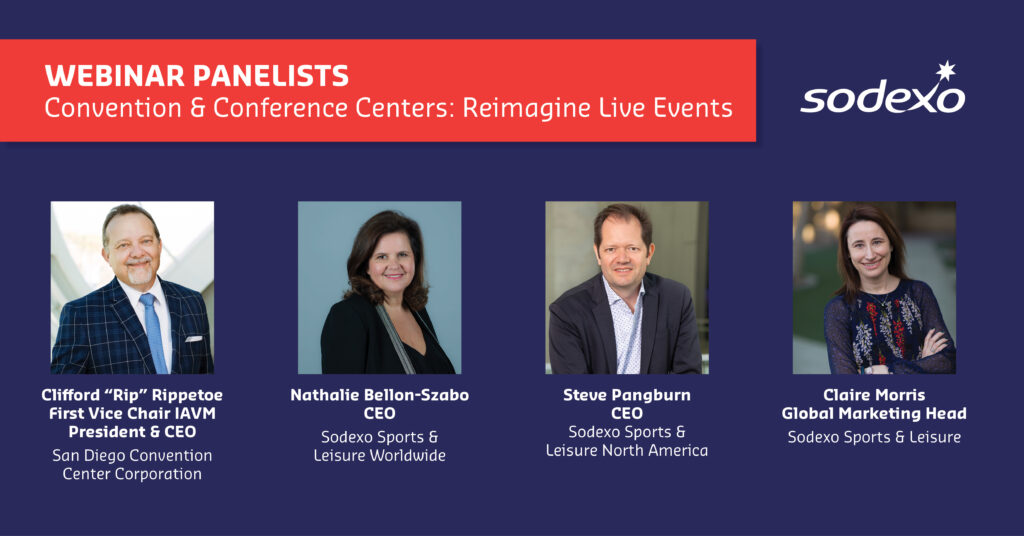 set a positive course for the next normal. By embracing new ways to live our lives, we can reimagine what is possible.
In this webinar, we will discuss the importance of live events in the COVID-19 world. Rippetoe, President and CEO of the San Diego Convention Center Corporation, will provide his point of view and vision for the future.
We will share proprietary research and quantitative insights by Harris Interactive for Sodexo focusing on consumer sentiment about attending a live event in the COVID-19 world.
Steve Pangburn, CEO, Sodexo Sports and Leisure North America, will share the company's comprehensive approach to help you prepare for the changes ahead and his vision of emerging trends. Technology and Corporate Social Responsibility are more important than ever.
Other panelists include Nathalie Bellon-Szabo, CEO, Sodexo Sports & Leisure Worldwide, and Claire Morris, Global Marketing Head, Sodexo Sports & Leisure.
To register now for the webinar, click here.
Also, attendees will need to download WebEx for this webinar.
Paul Pettas is Communications Director for Centerplate.