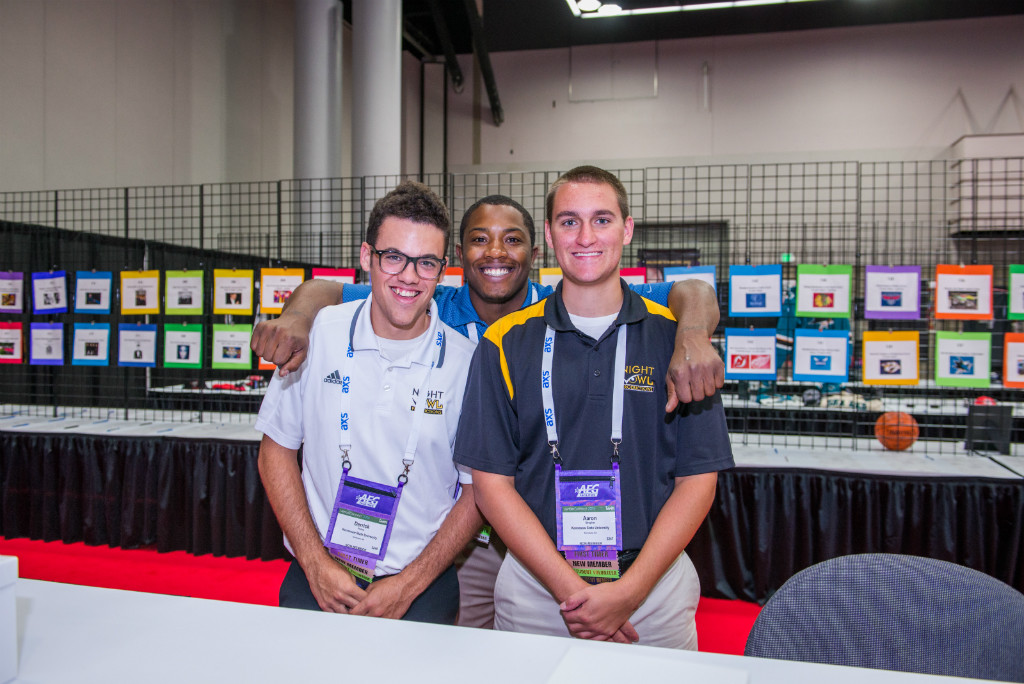 Since 2007, nearly 150 students have interned with the IAVM Foundation at VenueConnect, IAVM's Annual Conference & Trade Show. Here is where some of them are today.
2007
Ricky Nichols, assistant director, Don Haskins Center – University of Texas at El Paso
Sara Schenck, sales services specialist – Ticketmaster
Joseph Rekowski, concessions manager – Levy Restaurants at Sprint Center
Lauren Simpson, events manager – Grand Ole Opry House
Matthew Collin, event director – Argust Event Staffing
2008 
Matt Parker, director, event marketing and sales –  FELD Entertainment
Jon Cowen, event manager – STAPLES Center
Mike Simonson, guest services manager – South Carolina Aquarium
Evan Holmes, director of business operations – Mercedes Benz SuperDome
2009 
Whitney Goulish, director of ticket sales – Collegiate Consulting at University of Missouri Kansas City
Nate Hayden, director of business operations – Fiesta Bowl
Ashley York, event manager – Greater Fort Lauderdale Broward County Convention Center
Philip Costa, senior event coordinator – Stephen C. O'Connell Center
Kevin Burgess, assistant director of production – Stephen C. O'Connell Center
Philip Carpenter, operations manager – Liacouras Center
Steven Rodriguez, account executive, ticket sales – Collegiate Consulting at Rice University
Kathryn Carlson, guest services & security manager – American Airlines Center
Alaina Meissbach-Patton, event support specialist – Ticketmaster
2010
Jaclyn Sadler, director of corporate events & sales – International Bowling Campus
David Bennett, associate director of facilities and operations – Clemson University
Amber Stolley, event coordinator/house manager – Eureka Lodge
Caitlin Volpe, event coordinator – AT&T Performing Arts Center
Ryan Cross, box office manager – TicketsWest
"I wouldn't have gotten as far as I have without the help of the Foundation."—Ryan Cross, TicketsWest
"If it wasn't for interning with IAVM, I would not have been able to network and connect with so many professionals and have the opportunities that I have had."—Caitlin Volpe, AT&T Performing Arts Center
2011
Kenneth Gaudinez, assistant director, event operations – Wake Forest University
Bob Hotaling, event manager – The Ford Center
Aaron Batson, event manager – Orange County Convention Center
"I am a HUGE believer in this program and believe that it has helped me greatly get where I am today!"—Aaron Batson, Orange County Convention Center
2012
Justin Aquino, event coordinator – Orange County Fair and Event Center
Danny Sujanani, event prep supervisor – Greensboro Coliseum Complex
Ginny Van Doren, marketing coordinator – Cedar Park Center
Andrea Wherry, meeting planner – University of Florida
Melanie Hellmann, assistant suites manager – Delaware North
"The opportunities through the Foundation will help any aspiring venue manager fulfill their goals."—Justin Aquino, OC Fair and Event Center
2013
Courtney Dotts, event services coordinator – Philadelphia Eagles
Jason LoRusso, development associate – IAVM Foundation
Clara Sackey, senior product consultant – CrowdTorch by Cvent
Tyler Smith, Adidas field agent – Axis of Awesome
2014
McKell Bennett, assistant marketing director – University of Montana Athletics
Laura Sherman, assistant food and beverage manager – U.S. Cellular Center
Meryl Hershfield, event services coordinator – Florida Panthers
"Attending IAVM's VenueConnect has been one of the best decisions I have made to date. The opportunity was unforgettable, and the friends I met are some of the best people I know."—McKell Bennett, University of Montana Athletics
The IAVM Foundation offers several scholarships and internships for our many programs. Visit our website to learn more and to apply.
(Image: Orange Photography)