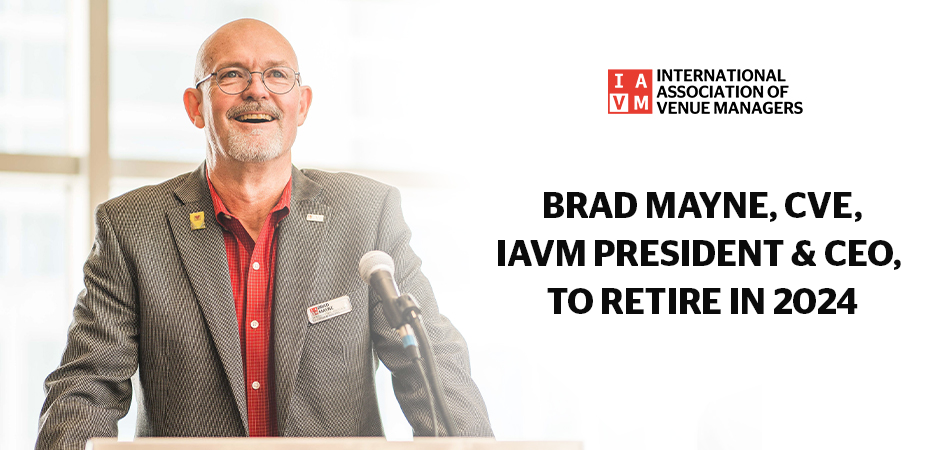 The International Association of Venue Managers (IAVM) announces the retirement of Brad Mayne, CVE, President & CEO, effective July 31, 2024.
Mayne took the helm of IAVM in 2016, and under his leadership has led membership to a historic high. He also led IAVM and the venue management industry successfully through the COVID-19 pandemic, tirelessly advocating for state and federal assistance to keep venues open.
"Brad has made tremendous strides in not only advancing the membership of IAVM, but also in revitalizing the events we offer and the success of our Foundation," stated Kerry Painter, CVE, CEM, CMP, Chair of the IAVM Board of Directors. "The Board of Directors are grateful to Brad for his ongoing dedication to the success and growth of our industry, as well as to the members of IAVM. IAVM has been extremely lucky to have had his guidance and leadership, especially during the past few years through the pandemic. Brad was absolutely the right person at the right time leading the charge of the association and industry."
Mayne was a member of IAVM for over 30 years, prior to being appointed as the President and CEO, and was the 2009 recipient of the Charles A. McElravy Award and the Foundation Legacy Award winner in 2011. He previously served as the President and CEO of both MetLife Stadium (East Rutherford, NJ) and American Airlines Center (Dallas, TX).
"IAVM has been a tremendous part of my professional career,"said Mayne. "As both a member and serving as the President and CEO, my mission has always been to enhance venue professional careers by generating hope through proper resources. I look forward to continuing working with IAVM leadership and our numerous volunteers during the next 11 months."
Following a detailed plan of succession for leadership, a Board CEO Selection Committee will be established in the coming months to begin paving the way to identify the new CEO and President.
Mayne will officially step down at the conclusion of IAVM's VenueConnect Conference and Trade Show, which will be held July 28-31, 2024 in Portland, Oregon.