Shopping the trade show floor at VenueConnect 2023 in Pittsburgh had special purpose for Randy Brown, CVE, Michelle Frank and Steve Knight. They are in the group planning a $40 million, 8,000-seat amphitheater in Elkhart, Ind., which is on a fast track to open in July 2025.
Brown, retired manager of the Allen County War Memorial Coliseum in Ft. Wayne, Ind., was brought on board as a consultant by promoters David Bucksner of Exceptional Artists and Jeff Fortier of Mammoth. Fortier provides booking for about 25 boutique amphitheaters in the U.S., Brown noted.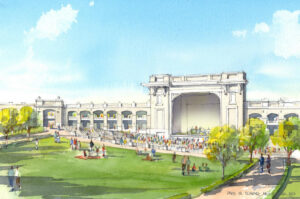 Both promoters are catalysts in this project, Frank said. Frank is general manager of The Lerner Theater, 1,700 seats, in Elkhart and will also manage the new amphitheater. She added that she had a great time at VenueConnect becoming even more educated about this new venue type.
From her perspective, the project started during the pandemic, when the business was on lockdown. She used that time to keep the conversation going with as many promoters as she could find, including some new ones. "When things started to open again, we took a risk on a couple shows together," she said of Bucksner. "He loved the Elkhart market and the Lerner…He called me one day and said. 'I don't know what you are doing at the Lerner, but I want to replace the Fort Wayne market with outdoor shows. Can we look at your green space?'"
Knight, managing architect, David M. Schwarz Architects, came on board because of a relationship that group has with Stefanos Polyzoides of Notre Dame, dean of the School of Architecture and independent urban planner. Polyzoides had been engaged to do a comprehensive master plan for downtown Elkhart.
"It's a bit of chicken and egg. As I understood it, a major piece of that master plan was putting an amphitheater downtown or else they already wanted it and it was up to Stefanos to find a place to put it," Knight said.
Schwarz was also architect on 8,000-capacity The Orion amphitheater in Huntsville, Ala., which opened last year and is already one of the top in the country, Knight said.
Stakeholders in the community formed a 501-C3, The Amp Group, and work began in earnest just months ago. Per the downtown masterplan, the amphitheater will be part of a mixed-use development, which includes a park, which will serve as a festival area as well as lawn seating for the amphitheater, Brown said. The amphitheater will have 3,200 fixed seats with a 300-capacity pit in front of the stage.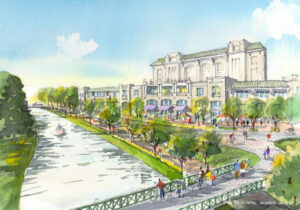 A 400-capacity club is also part of the plan, as is an 8,000-sq.-ft. multiuse room for everything from company meetings to wedding receptions.
Elkhart boasts a built-in clientele. The city is known as the RV and boat manufacturing capital of the world, Brown said. "Major manufacturing companies do major shows. Brooks and Dunn performed there last year. We built the flexibility into this venue so we can do dealer trade shows at the same time we can do concerts."
To date, those dealer shows have taken place outdoors at Elkhart's RV Hall of Fame, a couple miles north and a little west of downtown, he added. "They bring in major artists every year. This will be a significant improvement in facilities and amenities."
The architect of record is American StructurePoint of Indianapolis. Majority Builders out of South Bend is construction manager.
The area being developed is a full city block next door to The Lerner.
The masterplan was completed in January and the architect was on board by March, Knight said. Construction is set to begin one year later, March of 2024. Normally masterplans take years, but this project is refreshingly unusual in that there is a major alignment of operators, the city and all major stakeholders, Knight added. "They really do see it as a catalyst for downtown development."
It will be "a true civic venue in the middle of downtown, which is unusual for an amphitheater," he added. "They are bullish on making it more than a summertime, fair weather venue. They do see it as an opportunity to galvanize the community with programming throughout the year."
Architecturally, it will be rooted in the community. Elkhart has a wonderful architectural heritage, Knight said. "We want there to be a strong sense of intimacy between artist and audience. And a real sense of place. You know you are in Elkhart."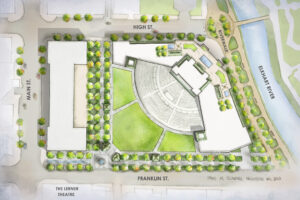 The Amp Group is led by Lori Harris, president, and Rex Martin. Martin is the fifth generation CEO of NIBCO, a world renowned plumbing parts manufacturer.
"Rex is spearheading this as a legacy piece, a gift to the community," Brown noted. "Lori is making sure we do it right. Right now, we even have a swimming pool on the roof for artists."
Elkhart Mayor Rod Roberson is 100 percent on board, "our biggest cheerleader," said Brown, which Frank confirmed.
Funding is primarily private donations. More than half of the project cost has been raised, Brown added.
Elkhart proper is 50,000 people. But the amphitheater, like The Lerner, will draw from all of Michiana. "We have two million people in a 60-mile radius," Frank said. "The Lerner consistently pulls its patron base from Indiana, Michigan, Illinois and Ohio."
The artists love The Lerner and Elkhart already, Frank added. Over and over again, she has seen postings on social media of artists sitting under a tree in the current green space, writing music, or going into boutique shops and buying what they might wear on stage that night. Besides Main Street, the city's riverwalk is an attractive downtown feature.
"We're full steam ahead," Frank said. "It's going to be transformative for this region."