By Meghan Risch
The Professional Convention Management Association (PCMA) Foundation recognized more than 20 business events industry leaders at the 2021 Visionary Awards, held at the Hilton Washington in Washington, D.C. The Visionary Awards honors the industry's exceptional stars for their significant contributions to their organizations and the business events community. More than 500 guests celebrated with a red-carpet experience, awards show and an after party featuring Austin-based band The Nightowls.
"The Visionary Awards is an opportunity to celebrate our amazing colleagues, while also supporting the PCMA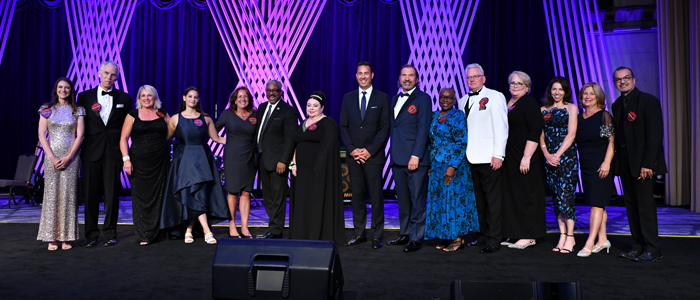 Foundation," said Angie Ranalli, PCMA Foundation chairwoman. "To the innovators, the game-changers, the risk-takers, and above all, the visionaries that provide the power behind business events, thank you for your hard work, dedication and passion. Congratulations to all of our honorees and finalists."
Six recipients were honored with Professional Excellence Awards. The winners were selected by an awards committee, which reviewed all nominations and chose the finalists. As part of the process, the committee reviewed the finalists again and selected the winners via a blind online vote.
Supplier of the Year: WeeMin Ong, Vice President of Conventions and Exhibitions, Marina Bay Sands
Business Event Strategist of the Year: Bob Bejan, CVP, Global Events, Studios and Marketing Community, Microsoft
Digital Experience Strategist of the Year: Victoria Fanning, CMP, DES, Sr. Manager, Digital Events, Medical Group Management Association (MGMA)
Event Designer of the Year: Amy Ledoux, retired as Chief Learning and Meetings Officer, ASAE
Community Advocate of the Year: José Quan, Founder and Owner of Eventia
Outstanding Service to a Chapter: IAVM member Kim Allison, Senior Director of Sales, Georgia World Congress Center — Capital Chapter
"We are all in the business of bringing people together – convening with purpose to deliver the human connections that help enrich our communities and our quality of life," said Sherrif Karamat, CAE, PCMA president and CEO. "We advance industries and social change. We are resilient. We are innovative and we passionately believe in our ability to change the world. The world is a better place when we are together."
In recognition of leaders who made a significant impact during a year filled with so much uncertainty, the PCMA Foundation added three new awards – the Wayfinder Award for an individual and an organization, and the Groundbreakers Award.
The Wayfinder Award honors an individual and an organization for their innovation, courage, leadership and solution-focused approach when impacted by a significant external challenge. IMEX Group CEO Carina Bauer was the individual award winner, and the organizational award went to Hyatt Hotels Corporation.
Carol Wallace, a past IAVM president (chair) and former president and CEO of the San Diego Convention Center Corporation, received the inaugural PCMA Groundbreakers Award — honoring industry trailblazers who represent diverse sectors of the business events community, recognizing those who have made a significant contribution to their organizations, and programs that advance inclusion and equity.
Also recognized were the Lifetime Achievement Honorees — Bill Grusich, CMP, FASAE, senior vice president at Associated Luxury Hotels International, and Lisa Delpy Neirotti, Ph.D, professor and director Sports Management programs (BBA, MSSM, MBA, Sport Philanthropy Certificate) at The George Washington University.
Due to current travel restrictions and border closures, the PCMA Foundation will appropriately honor Ben Goedegebuure, vice president and global general manager at Maritz Global Events with his Lifetime Achievement during the 2022 Visionary Awards.
Other finalists for the Professional Excellence and Wayfinder Awards that were honored include the following: Karen Watson, Cultivate Event Design and Consulting; Camille White-Stern, Splash; Rose Horcher, Choose Chicago; Lora Stanley, Visit Anaheim; Carly Silberstein, Redstone Agency Inc.; Ben Elliott, Live Productions Australia Pty Ltd; John Woo, GES Events; Megan Finnell, CMP, Medical Group Management Association (MGMA); Toni Zoblotsky, Hilton Corp.; Michelle Guelbart, MSW, a recognized voice in the movement to eradicate human trafficking and child exploitation; Allen Anderson, Anderson Hospitality Services, Greater Philadelphia Chapter; Andrew Horsfield, DES, Hyatt Place Ottawa West, PCMA Canada East Chapter; Michael Clarke, Marriott International; Patrizia Semprebene Buongiorno, AIM Group International; Events DC; PCMA Rocky Mountain Chapter.
Meghan Risch is Vice President, Strategic and Corporate Communications at PCMA.