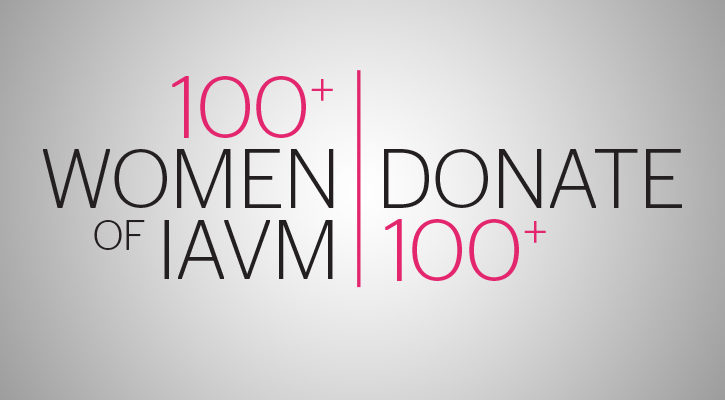 THANK YOU for being rock stars and always supporting your IAVM Foundation.
For 35 years the Foundation has been the funding arm for industry initiatives. One such initiative is the 100+ WOMEN of IAVM | DONATE 100+, which was created to expose more women to IAVM events. On April 1st you were given the opportunity to rally around this initiative and once again you have risen to the occasion.
"Watching ALL members rally around this initiative has been so inspiring," said Kerry Painter, Assistant General Manager, Cox Business Center and co-Champion of the initiative. "It is gratifying to know six women's professional lives will be impacted because of your donations. This is IAVM's 'Inspiring leaders and creating connections' at its best. Thank you for donating and becoming one of the 100+ Women of IAVM!"
To date we have 64 donors. With the campaign ending on June 30th, we are confident we will finish strong.
"On behalf of the Board of Trustees, I extend to all members THANK YOU for your continued support of your IAVM Foundation," said Board of Trustee Chair, Bob Hunter. "Helping us achieve our mission of educating members through initiatives such as the 100+ WOMEN OF IAVM is a tremendous testament to how much our industry gives back and supports each other."
THANK YOU!
Cindy Vargo
Kim Bedier
Scott Megna
Shannon Terrill
Patrick Donnelly
Elisa Putman
Russell Simons
Jodi Feder
Dot Lischick
Lisa Thomason
Amy Rahja
Donna Dowless
Kevin Twohig
Elizabeth Murray
Alexis Berggren
Julie Bunker
James McCue
Jennifer Turner
Donna Julian
Karen Hoffman
John Payne
Annie Wilson
John Siehl
Tom Tingle
Emily Ladewig
Tim Seeberg
Jennifer Norris
Kelly Graham
Tammy Koolbeck
Anne Wheat
Jacquie Goetz
Roxi Witt
Lisanne Lewis
Laura Doyle
Lori Guzzard
John Bolton
Erin Jepson, CMP
Kim Stone
Jennifer Ross
Dan Dreier
Erin Jepson
Abbie Jo Lady
Angie Teel
Kimberly Mahoney
Sara Fiegler
Lynda Reinhart
Libby Raines
Rebecca Bolton
Sarah Minnick
Maura Gast
Barb Dallinger
Brad Mayne
Rosanne Duke
Robert Hunter
Chris Kibler
Lisa Elliott
Melinda Camp
Stephanie Curran
Karen Totaro
Leslee Stewart
Michele Swann
Kerry Painter