By Paul Turner, CFE, CSSP
In January of this year AT&T Stadium in Arlington, Texas, concluded its eighth NFL season. Since the stadium opened in June of 2009 as the new home of the Dallas Cowboys it has seen virtually every kind of event. Football, soccer, basketball, concerts, motor sports, conventions, gymnastics, the Super Bowl, the Final Four, the NBA All Star Game, the Academy of Country Music Awards, the inaugural College Football Playoff National Championship game, WrestleMania, live opera simulcasts and even women's championship bowling. We have packed a lot into our first several years and we have made a lot of progress in learning how guests experience the building and figuring out the best way to manage operations.
So as we ended the 2016 NFL season and moved through our series of dirt events (Monster Jam, Supercross, Pro Bull Riders,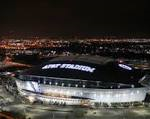 The American Rodeo), I took a moment for self-reflection. Opening a venue – especially a stadium and one of the magnitude of AT&T Stadium – has been an incredible experience. In those early days we struggled, quickly moving from one event to another without much time to sort things out or plan for the future. Our staff would long for the days when all of the hard-earned experience was behind us and we "settled in" to running the facility. We desperately wanted to master all aspects of event planning and stadium operations and deliver "perfect" experiences to our guests and clients. And through a lot of hard work, experimentation and some measure of luck, we have done pretty well. We are not perfect – and we never will be – but I believe that we are consistently delivering on the promises we have made to ownership, our season ticket holders, our guests who attend the myriad of events, and our event clients. We have been profitable and we have shown that AT&T Stadium is a valuable community asset for the City of Arlington and North Texas.
In June it will be AT&T Stadium's 8th anniversary. Our schedule of future events is starting to look familiar. NFL games. College football. High school football. Concerts. Motorsports. Recurring private convention events. What was a few years ago a novelty and the "next big challenge" has the appearance of being routine. We have done it before. We have the records from past events to fall back on. It was great the last time we did it, so let's just do that again.
As I sit back and reflect on the last eight years, I get worried. The confidence that has come with experience and success makes us ripe for complacency. And complacency is often the first ingredient in the recipe for failure. You get confident. That confidence builds comfort. Comfort saps energy. A lack of energy turns into a lack of action. A lack of action breeds decay. We need to fight complacency and ensure that all of the investment in effort and expertise that got us where we are propels us forward into a future filled with more success.
It's time to fight the good fight. It's time to get to work.
But this is a different kind of work. Instead of building, inventing, creating and putting into place all of the things we needed when AT&T Stadium first opened, it is now time to shift and become more analytical about our operation. We need to be more introspective and closely examine our status quo. We need to challenge all of the things we are doing today to make sure that they are the right thing to do, that we are doing it in the right way and that we are still working toward common goals.
Two weeks ago at my department staff meeting I challenged each person on our team. I told them that now was the time for them to look at their operation, tear it apart and find what needs revision, fixing, what needs to be thrown out and what needs to be reinvented. I told my team that we cannot assume that our operation is as good as we may think it is. We know we have "blind spots," problem areas that are hard for us to see because we are so close to the work or because we make assumptions about how things are working. I told my team that at the next staff meeting I wanted each of them to report back to the group with a list of things that they were going to do to help reexamine, renew and recharge our operation. I asked each of them to look at the specific things in their area – the things that they are personally responsible for – and find projects that would help move our operation forward. I encouraged them to also look at the bigger picture. If there were things outside their role that needed attention, we needed to know that, too.
Last Tuesday we had our department meeting and each person shared their list to the group. I was really impressed. Each person had done a great job of identifying areas for improvement and specific actions that they can take to address a need. As we enter into a quieter time in our schedule, I am confident the time will be productive because each person has identified meaningful projects and is accountable to the entire department for getting things done.
So what is the lesson here? Well, I am betting that where I found myself and my team – on the edge of complacency – is where some other people may be (or they may be knee deep in complacency). My intent here is to provide encouragement to all to fight complacency and embark on a plan to critically examine your operation. Identify areas of improvement and opportunities for innovation. Many of these entail pure effort and not huge expenditures of cash. Have the courage to question all that you do. You may find yourself being validated (yes, this is the best way to do this and we are really good at doing it!). But you may also find there are areas of neglect, decay and waste that are corroding your work and your work environment. And what you take on does not have to be huge. You can take small, incremental steps toward improvement. The important thing is to fight complacency and get something done. You owe that to your organization. You owe that to the people you work with. But mostly, you owe it to yourself.
It's time to fight the good fight. It's time to get to work.
Paul Turner, CFE CSSP is Senior Director of Event Operations for the Dallas Cowboys and AT&T Stadium. He represents the Stadiums sector on the IAVM Board of Directors, is Chair of the Academy for Venue Safety & Security and is a Venue Management School faculty member. He can be reached at pturner@dallascowboys.net.