By Sarah Britt
After a career of facility openings and expansions, one of our industry greats plans to hang up his radio, exchanging it for a fishing hat and retirement. Charles McKee Stone, known as Mack, will be retiring this June after 43 years in the industry.
With a brief stint in the tradeshow business, Mack has worked in five facilities, opening three and expanding two. Mack started his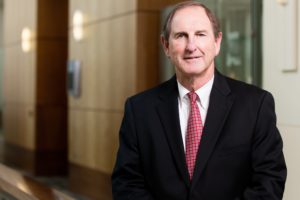 venue management career in his hometown of Greenwood, SC, where he opened the Greenwood Civic Center, and spent four years getting it off the ground. From there, Mack and his beautiful bride, Amy, moved to Myrtle Beach, SC, where he managed the Myrtle Beach Convention Center for five years, aiding in their expansion plans. In an industry based on relationships, it is no surprise that Mack was reached out to when plans to open a convention center in Chattanooga, TN took place. Five successful years later, the next call came from the Phoenix Civic Plaza, where he and Amy spent the next three years. In 1991, in a desire to move back South, Mack took a job producing tradeshows, where he spent the next 11 years.
There had been talk for years about opening a convention center in Columbia, SC, where Mack went to college and played football for the University of South Carolina. In 2002, the municipal partners pulled together and the center's plans started to take shape. Steve Camp, who was brought in to help get the Columbia Metropolitan Convention Center started, shared with the planning committee that he knew of the perfect start to the CMCC team. In 2003, Mack became the Vice President and General Manager of the empty plot of land that was to become the CMCC. He worked through design and construction of the facility, all while assembling his ideal staff (many of which are still with the building today).
The facility opened in 2004 and has flourished ever since. After 13 successful years, the CMCC has more demand than supply with plans of a possible expansion on the horizon. Mack will tell you, "There is nothing more fun than planning an expansion or opening a building," and when asked how business is in Columbia, "We've gotten to be experts at fitting 10 pounds in a 5-pound bag."
Notorious for his non-stop, hands-on ways, and unique sayings known as "Mackisms," Mack's love and knowledge of the industry is apparent within minutes of meeting him. In those crazy venue moments where we all think we've seen it all and something even stranger happens, he'll tell you, "You just can't make this stuff up. Don't you just love show business?" He is also the first one on his hands and knees running power if needed, out in the street directing traffic, or greeting and directing attendees at the main entrance on busy days. When a client is having a stressful planning moment, they are "jumpier than a long-tailed cat in a room full of rocking chairs," and when a room is set to maximum capacity, it "can't fit another hominy grit" into it! He has been a mentor to almost every person who has had the honor of being on his team. Mack has always been very deliberate about passing on his knowledge attained over years of experience. He always encourages those pursing this career to get involved in IAVM and to get to know your peers.
As a person, Mack is one of a kind. He's the type of friend that will go out of his way to do anything for you. He answers middle of the night distress calls, welcomes all to the building as if they were part of the family and depicts the definition of a southern gentleman. When asking his friends and colleagues, there is no one that deserves the opportunity to relax and enjoy life with his bride of 45 years more than Mack Stone. Congratulations Mack, we are all better having known you.
Sarah Britt is director of sales for the Columbia Metropolitan Convention Center in Columbia, SC.