You are a high school football stadium. You are in Texas. You are in a community called Prosper.
The math adds up.
Prosper, Texas, located some 36 miles due north of Dallas, is indeed home to the prosperous, at least when it comes to the new 12,000-seat high school football stadium and natatorium complex whose design has been completed by the school district at a price tag of $48 million.
They don't make high school stadiums like they used to.
Huckabee Architects is the designer for the venue that opens in August 2019 and meets the need of the booming community. The project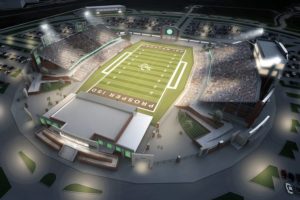 was approved and will be funded from a $710 million bond issue passed almost a decade ago. The complex will sit to the west of the high school and serve as home for athletic, extracurricular and community programs.
Features include a split-level arrangement on the home side with 6,000 seats and two-level press box that houses press and scouting rooms, film deck, radio and television boxes and kitchen.
Want to get away at halftime?
A facility and community room looks over the field beyond the north end zone and can accommodate up to 400 people. Even the bands can warm up on a paved area provided as staging for halftime shows.
The natatorium includes 16 lanes for swimmers, a four-lane warmup pool and two one-meter diving boards. Seating within the natatorium accommodates a capacity of 500. The venue will serve multiple high schools and is the district's first such facility.
Prosper ISD is one of the fastest growing districts in Texas at a rate of close to 100 percent every five years. The district said in a release that the price tag came in some $15-$20 million less than recent similar projects in the Dallas/Fort Worth area and throughout the state.
And to think that many universities would love to have stadiums such as those springing up at the high school level in Texas.