Julie Bunker has joined Portland'5 Centers for the Arts as the new director of operations.
Bunker has 20 years of experience in increasingly responsible roles within operational management at various companies. In her most recent position, Bunker was the director of design and construction at Pinnacle Entertainment, a Las Vegas-based casino entertainment company, where she managed projects in the Midwest.
She has also previously been the director of design for Ameristar Casinos and the vice president for facilities and operations at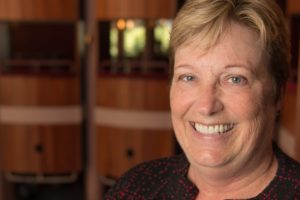 the Omaha Performing Arts Center.
Bunker's experience is enhanced by her Masters degree in Management from Bellevue University and her Bachelors of Arts from the University of Arizona. She has also taught venue management at her alma mater. Bunker is passionate about continuous improvement and being a part of a winning team.
"We are so excited to have Julie on our team," said Robyn Williams, CFE, executive director at Portland'5 Centers for the Arts. "Julie brings a wealth of experience and a unique perspective that will allow P'5 to continue to serve our community by offering a home for the finest performing arts experiences for many years to come."
As the director of operations, Bunker is responsible for the overall leadership of operations. Specifically, she will lead efforts in these areas:
• The daily operations of building maintenance
• Stage-related services
• Grounds maintenance
• Custodial services
• Security and capital projects
• Oversee event and performance load-in and load-out, setup and teardown
• Develops and implements appropriate policies, programs and services to ensure effective utilization of resources and regulatory compliance
• Serves as a member of the management team
"At Portland'5 Centers for the Arts, we hire a workforce representative of the communities we serve, understanding that a diverse workforce strengthens our organization," Williams added. "We value diversity and support a positive and welcoming environment where all of our employees can thrive."
"I am very excited about joining Portland'5 Centers for the Arts. The performing arts has always been my first love and returning to it by way of Portland'5 is particularly exciting given the organization's stellar nationwide reputation," Bunker said of her new position.