I arrived in Lafayette, Louisiana, on Monday, September 12, 2005. After making the six-hour drive from Dallas, I parked in front of the Cajundome, the on-campus arena at the University of Louisiana-Lafayette that is home to Ragin' Cajun athletics, concerts, family shows and much more.
It was close to 4 p.m., and I gathered my notebook and recorder to conduct an interview with Cajundome Director Greg Davis. The drive will always be memorable for one special thing: the two dozen donuts that sat in the passenger seat of my car and made the trip with me.
I had stopped around the corner from my home at a donut shop I regularly frequented (for better or worse) to get a couple treats for the road. I told my sweet friend Sue who stood behind the counter where I was going and why I was going to Lafayette. My visit was to see for myself what Greg and his tireless staff was doing with some 3,000 individuals still residing in his venue in the wake of Hurricane Katrina, which struck the coast just two weeks prior and turned Davis's venue into an immediate shelter for busloads of people fortunate enough to be placed on buses and sent away from the devastation in New Orleans.
Sue listened to my story and asked me to wait for just a minute. I obeyed and watched as she boxed a couple dozen donuts. She handed them over the counter to me and said, "Please take these to your friend and for his people who are working." It was Sue's gift, what Sue could do, and so I thanked her and embarked on a most difficult voyage of riding in a car with 24 hot donuts sitting shotgun next to me.
I gathered the donuts along with everything else and walked toward the administration area of the Cajundome. This sat just to the right of the ticket window, where the word TICKETS was covered by the more ominous words POST OFFICE. Yes, the Cajundome had a post office and even its own zip code for those temporarily housed within. Many referred to the denizens of the facility as evacuees, which I suppose technically they are as they were blessed to at least evacuate New Orleans with their lives. Davis, though, chose to refer to his inhabitants in the more humane and less labeling term of residents. It was just one of countless things that Davis did on the fly and that deservedly made him a hero to everyone inside his arena.
Davis walked me throughout the facility and even introduced me to some of the residents. Many called out to "Mr. Davis" and Greg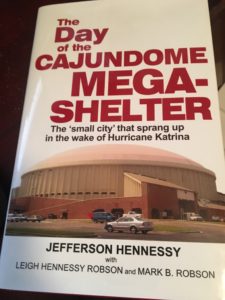 knew many by name as well. I have never seen such humanitarianism on display. It was one reason why I came. What would have been concession stands getting ready to serve hot dogs and popcorn for the upcoming basketball season were now covered in writing where residents could get baby diapers, baby wipes, contact lens supplies and more. A sign in the middle of the stand simply read, "Thank you for your patience."
Portable showers were built in 24 hours and located outside the arena where residents, practically all who arrived on buses in filthy rags and bearing the stench of the heat, could wash their tired bodies.
There was so much more from what Davis and his valiant team did during the two months that his building housed residents. Once the last resident found housing elsewhere, the Cajundome would reopen in January. In the process, the venue became the model for mega-shelters, those places that temporarily house individuals in times mostly of Mother Nature's destruction.
Twelve years later, on July 18, 2017, I made the same six-hour drive to the Cajundome. This time, it was to attend a book release for The Day of the Cajundome Mega-Shelter, an occasion marked with several speakers who were part of the small city inside the venue those months in 2005. Former Governor Kathleen Blanco spoke, as did Davis and several others. All spoke with reverence and the importance of bringing the book to life as a record of history. Emotions fittingly ran raw. I sat as an outsider with a renewed appreciation for the spirit and compassion of the city of Lafayette and the state of Louisiana. It was evident and it was on display.
While there was reflection, the event was anything but somber or melancholy. No, instead it was a celebration of good, of when people put feet to the fire and help each other in desperate times of need. This is our people and our industry at its finest, and it is embodied in people like Greg Davis and so many others.
Please visit Acadian House to order.