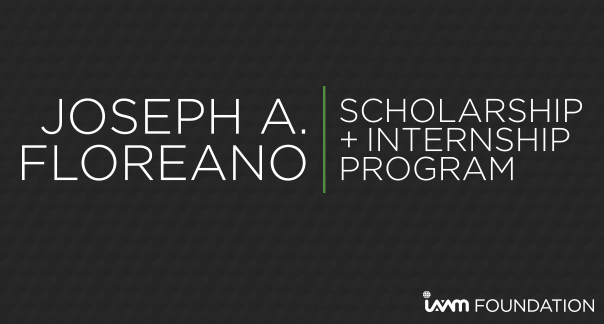 The Joseph A. Floreano Scholarship + Internship program is now accepting applications for all 2016 events. Scholarships + Internships will be awarded for the Academy for Venue Safety & Security, the Performing Arts Managers Conference, Venue Management School, VenueConnect, the Arena Management Conference, and the International Convention Center Conference.
"Applying for the VMS internship is the best decision I've ever made," said Miah Moore, a student at Missouri State University student and a 2015 Venue Management School intern. "I want to encourage any students reading this to apply. Take the time and apply for all of the opportunities, because I promise you that you WILL take something away from your experience. You won't regret it."
The Joseph A. Floreano Scholarship + Internship Program was established after the untimely passing of Joseph A. Floreano, CFE, a long-time IAVM member, Foundation Trustee, and the first and only Honorary Chairman of the Foundation Board of Trustees. Floreano was known for giving selflessly in both time and money to worthy industry causes. His leadership was aspirational, and he took great pride in mentoring and supporting the advancement of the venue management industry. The contributions Floreano made to the Foundation are immeasurable and with that we believed that the naming of the scholarship + internship program would be the most appropriate way to honor his legacy that will forever leave a mark on the Foundation.
"I am extremely grateful for the opportunity given to me by the IAVM Foundation," said Kenneth Gaudinez, an event manager at the Orange County Convention Center and a 2015 Venue Management School (VMS) Scholarship Recipient. "I never thought I would attend VMS until the Joseph A. Floreano Scholarship + Internship program was created. The IAVM Foundation is providing opportunities to those who may not have the resources to attend IAVM's conferences, schools, or professional development courses. I encourage everyone to take full advantage of these opportunities and apply for the various scholarships they have to offer."
Thirty-seven Scholarships + Internships were awarded in 2015 thanks to the support of committed donors. Recipients receive full complimentary registration to the respective conference or school in addition to a stipend to assist with travel expenses or hotel accommodations. For more information about the Joseph A. Floreano Scholarship + Internship program, click here. If you have any questions about the program, please contact IAVM Foundation staff at Foundation@iavm.org.
"Having the privilege to be part of VenueConnect as an intern was extremely rewarding, and I can't thank IAVM enough for the opportunity," said Ashley Molina, a University of Florida student and 2015 VenueConnect intern. "Not only is EVERYONE approachable, but they are also willing to share insight on the industry… I made valuable connections at VC15, especially with the interns. We clicked so well we felt like family by the end. I can't wait to attend the next conference and be reunited with these wonderful people."