The 128th OC Fair in Costa Mesa, California, welcomed a record 1,470,636 guests who enjoyed 35 sold-out shows, ate hundreds of thousands of chocolate chip cookies and freed their inner farmers by greeting 11 new piglets at Centennial Farm.
"2018 was a banner year for the OC Fair in so many ways," said OC Fair & Event Center CEO Kathy Kramer, CMP, CVE. "We want to thank the community for coming out in record-breaking numbers to enjoy the best celebration of the summer. We're proud that 87% of guests surveyed said they increased their knowledge of agriculture and gave us a 4.62 overall enjoyment rating (out of 5)."
Through its community programs, the OC Fair collected 11,055 children's books, 10,769 items of clothing, 8,849 cans of food, and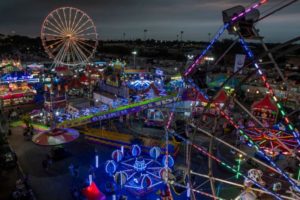 8,229 school supplies for local charities through the We Care Wednesday program during which guests received free admission with their donation.
The Friends of the Fair program welcomed 4,501 guests with special needs for a free VIP experience while the OC Fair Kids Club brought 1,150 children from local Title 1 programs to the Fair for a special experience that included free admission and rides, a gift card, and bus service.
The final audited attendance figures show an increase of increase 10% from the 2017 number of 1,334,753. Final revenue numbers will be released in October.
"The annual Fair funds our community give-back programs, agriculture education, and supports Centennial Farm and Heroes Hall, so a great year for the Fair pays dividends all year long," Kramer said.
This year the OC Fair offered more discounts and promotions than ever before to help make the event more accessible. New in 2018 was Overalls Day and 3,140 fairgoers received free admission on Thursdays when they wore the denim classics. And a new carnival wristband deal was added to Sundays.
The most popular one-time promotion was the opening day "Free Till 3" admission and parking deal and 38,091 guests arrived early on July 13 to get the party started. Half-price early-bird weekend admission attracted 73,091 fairgoers. Some 16,610 veterans and active members of the military received free admission during the run of the fair and their family members purchased 22,647 discounted tickets.
On Thursdays, 25,158 children received free admission for Kids Day and more than 13,000 free carnival rides were provided to children who participated in the Read and Ride program.
The previous attendance record for the 23-day event was set in 2011 when 1,400,280 fairgoers turned out for the "Let's Eat" theme and watched sold-out concerts by Bob Dylan, Selena Gomez, Blake Shelton, Weezer, Chicago, and more in Pacific Amphitheatre.
The 2018 OC Fair also broke the previous single-day attendance record when 86,334 fairgoers arrived on Saturday, July 28. That turnout bested the record of 84,986 guests who visited the Fair on July 21, 2001, to see the Orange Crush Demolition Derby debut, the "I Love Lucy" 50th-anniversary exhibit and to ride La Grande Wheel and the Euroslide for the first time at the OC Fair.
The OC Fair is currently the second-largest Fair in California by attendance, behind only the San Diego County Fair which runs three days longer. Nationally, the OC Fair ranks seventh by attendance.