The Texas Rangers have unveiled renderings of their new $1.1 billion ballpark – Globe Life Field – which is set to open in 2020.
Impressive? To say the least. Necessary? Just ask the fans who swelter in the open-air heat of the current venue.
The team announced that the new approximate 41,000-capacity retractable roof venue will indeed open before the first pitch is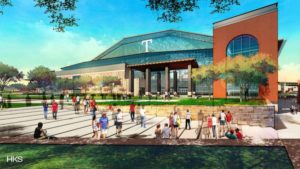 thrown in the 2020 season. During a press conference that showed off all the considerable charm of Globe Life Field, it was emphasized that this will be the first "next-generation" ballpark.
In terms of similarities, Globe Life Field will most closely align with two venues that house NFL teams in Lucas Oil Stadium in Indianapolis and U.S. Bank Stadium in Minneapolis.
There will still be some good old-fashioned Texas sunshine as the retractable roof will feature a skylight. Even when the roof is closed, natural light will be able to indirectly filter into the stadium with affecting players' or fans' vision. The roof will retract to the west, so in the event that rains comes in a torrential downpour, the infield will be the first thing to get covered instead of the outfield.
Another nod in the new park is the creation of an intimate environment with a three-tier roof. The park will house the first known 360-degree, uninterrupted upper concourse, so as to eliminate obstructions between it and the field.
Rob Matwick, the team's executive vice president for baseball operations, called the new venue "amazing," a term not loosely thrown around.
"A lot of hours went into this in short amount of time," he said. "A building like this gives us opportunities that just don't exist today at Globe Life Park.
One possible new feature is that safety netting can be extended around the entire lower bowl seating, a change from the current configuration where netting extends to the end of both dugouts.
Groundbreaking is scheduled to begin on September 28.