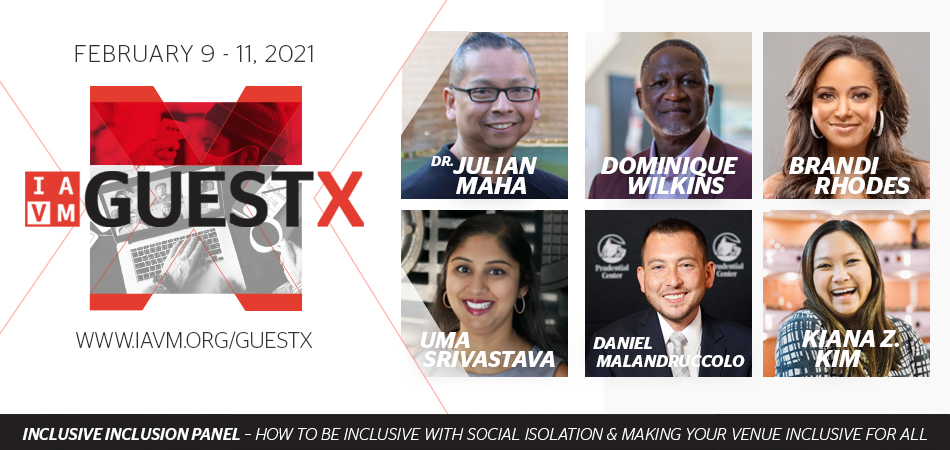 GUESTX 2021 Session Spotlight
Inclusive Inclusion – How To Be Inclusive With Social Isolation & Making Your Venue Inclusive For All
Thursday, February 11 – 12:45 PM – 1:45 PM CST
Join KultureCity, Charleston Gaillard Center, and Prudential Center for a conversation about social isolation, sensory diversity and how to get our venues ready to reopen to promote sensory inclusion, diversity and also enhance guest satisfaction and venue revenue post pandemic.
PANEL OVERVIEW
Moderator: Uma Srivastava, Chief Operating Officer at KultureCity
Panelists:
Julian Maha, Founder KultureCity
Dominique Wilkins, Vice President Of Basketball & Special Advisor To The Ceo, Atlanta Hawks, & Board Chairman Of Kulturecity
Brandi Rhodes, Chief Brand Officer of All Elite Wrestling, KultureCity Advocate, Actor & Television Personality
Daniel Malandruccolo, Director, Guest Services New Jersey Devils/Prudential Center
Kiana Z. Kim, Director of Production at The Charleston Gaillard Center & IAVM Foundation 30|UNDER|30 Class of 2019
If you have not already registered for GuestX 2021, there's still time! Simply click here to register now! We hope to "see" you at virtual GuestX 2021!