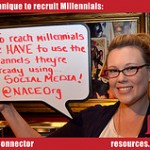 With 76 million members, generation Y is "the most talked-about, researched, marketed-to generation ever," according to Melissa Lavigne-Delville, vice president of strategic insights and culture education at NBCUniversal.
That's a mouthful of a title; what it means is Lavigne-Delville analyzes demographic data to help the media conglomerate's sales executives sell commercials and ad space throughout its portfolio. Among the division's projects is "Y Now," a comprehensive report/film on millennials and how to reach them.
What Lavigne-Delville and her team found might surprise you: For one thing, millennials are older than we generally think of them. With the generation spanning those born between 1977 and 1995, the average Y-er is 25. Combine that with the statistic that the average age to have a child is 26, and you quickly realize that "This is the next generation of heads of households," Lavigne-Delville said at Variety's Massive Advertising Summit. "It's the generation right now of moms, of dads and of modern families."
It's useful, then, to take a closer look at some of the trends emerging in this group and how to use that information to better market to millennials.
"Modern Traditionalism"
Families today are incredibly diverse. In fact, Lavigne-Delville's research shows that just four percent of American families fit the traditional model of a married couple with biological children under the age of 18 and a wife who doesn't work. "You've got single moms, you've got stay-at-home dads, you've got gay parents, you've got lots of divorced parents unfortunately, you've got multicultural families households, you've got multigenerational households," she said.
Yet 62 percent of all moms describe their parenting style as "very traditional." "It's not just how they describe themselves; it's what they desire to be," Lavigne-Delville explained. "Which doesn't make any sense, because they aren't 'very traditional.'"
"So even though modern families don't look traditional, they have aspirations for tradition, and marketers can tap into those desires when targeting millennials."
What these mothers mean is 86 percent want to sit down for at least one meal a day with the whole family. Some 78 percent would prefer to have a child with good manners to one with good grades. And 53 percent of working moms would rather stay at home.
So even though modern families don't look traditional, they have aspirations for tradition, and marketers can tap into those desires when targeting millennials.
"You should actually personify families exactly how they look—really eclectic, really different—but aspirations of the messaging, aspirations in the entertainment should give a nod to the traditional values," Lavigne-Delville said.
"Rookie Force"
It should serve as no surprise to anyone in a modern family that men and women have differing opinions about how much they contribute to the household. Asked who takes care of the most household chores, 61 percent of generation Y dads said the work was split evenly between husband and wife; 24 percent said they did more; and 15 percent said their spouses did more. On the other hand, 72 percent of moms said they did most of the chores; 27 percent said the work was split evenly; and 1 percent—just 1 percent!—said their husbands did more.
The battle of the sexes continues on the home front, it seems, but the truth is men are contributing more to the household, or at least they think they are, and thus "there is some low-hanging fruit here, dads that are not getting acknowledged for how much they're doing," Lavigne-Delville said. "There's an opportunity to reach out to these dads and think about them as a massive part of these equations."
"Extended Adolescence"
Finally, millennials are enjoying the benefits of youth longer than previous generations. For 62 percent of both generation X and Y, 18 does not mark the start of adulthood anymore. More than 25 percent think that adulthood does not begin until their late 20s or even older. And 59 percent don't view moving out of their parents' homes as a necessary step to adulthood. The result is multigenerational households, and not just in the Hispanic population.
"Think about marketing to that 27-year-old" who lives at home, Lavigne-Delville said. "He probably has expendable income. He's probably not paying much for rent. He can probably trade up for things."
He's also probably influencing what his roommates—er, parents—buy, from big-screen televisions to new cars.
"The millennials are actually impacting many other generations," she said.