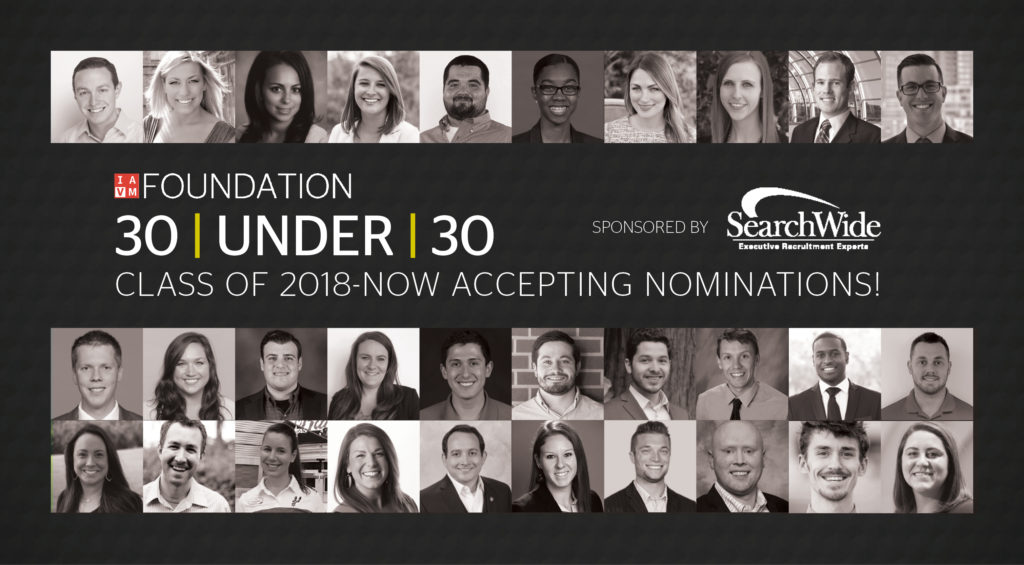 Do you know a young professional that is a rising star in the venue industry? Nominate that individual to be a part of the 30 |UNDER | 30 Class of 2018!
Launched at VenueConnect 2015 in Baltimore, 30 | UNDER | 30 focuses on identifying and developing the talent of venue industry professionals, 30 years of age and under, through increased access and exposure to industry networking and thought leadership. The program provides year-round continued education for professional growth in the venue industry and helps program participants become better, more productive employees.
"One of the most important investments that the IAVM Foundation makes every year is the 30 | Under | 30 program," stated Bob Hunter, CVE, Chief Project Development Officer for Maple Leaf Sports & Entertainment, Air Canada Centre and Foundation Immediate Past Chair for the Board of Trustees. "Up and coming industry professionals are recognized through this program for the contributions they are making to their respective organizations. That investment allows these individuals to participate in and experience VenueConnect, as well as reinforce the value of a career in our industry."
Selected applicants will receive a travel stipend of $800 and complimentary registration to attend VenueConnect, IAVM's Annual Conference & Trade Show. Honorees notified in May and will be recognized formally at the Venue Industry Awards luncheon in Toronto, July 25.
"Our vision is to honor and inspire the next generation of leaders in the public assembly industry," said Kathryn Eades, Director of Development, IAVM Foundation. "The Class of 2018 will truly represent the best of the best who show passion and drive for our industry."
The deadline to receive nominations is March 31, 2018. Click here to learn more.