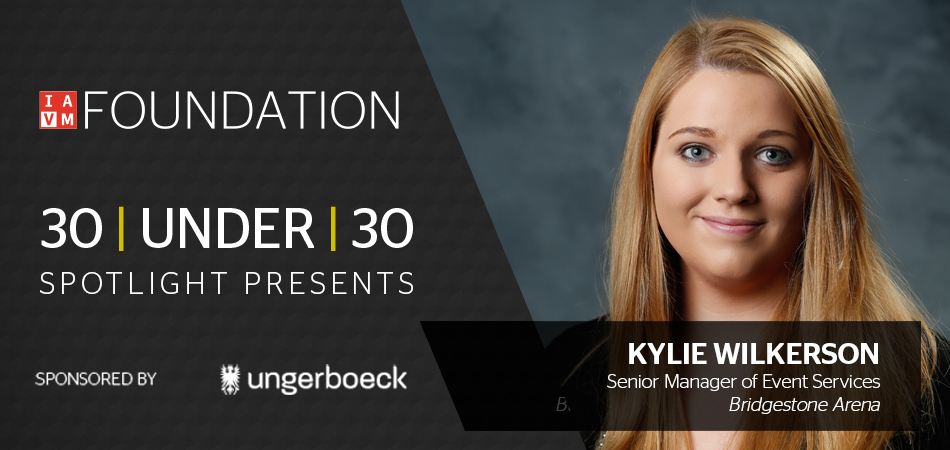 Your Foundation Proudly Presents
The 30|UNDER|30 Class of 2020 Spotlight
Sponsored by Ungerboeck
Kylie Wilkerson
Senior Manager of Event Services, Bridgestone Arena
Kylie Wilkerson is the Senior Manager of Event Services at Bridgestone Arena in Nashville, Tennessee. She has worked her way through various levels of the venue management industry – intern, food & beverage supervisor, event coordinator, and ultimately to the leadership role in a busy and thriving Event Services department. In her current role she oversees the coordination of professional sporting events with the Nashville Predators, Concerts, Conferences, and Awards Shows. Kylie is honored to represent Bridgestone Arena as a 2020 IAVM 30|Under|30 winner.
"From March – May (and still) many things were uncertain, including the status of this award. When I received word in early May that I had been selected as a winner it was such a relief to finally have some certainty and provided some much needed joy and excitement during a stressful time. Honored to be a part of this group during such a unique time in our industry and world."
Join your Foundation in congratulating Kylie on being honored as one of the 30|UNDER|30 Class of 2020 and don't forget to come back each Thursday as we spotlight another honoree!