By R.V. Baugus
October 24, 2021, marked the 50th anniversary of when the old Texas Stadium home to the Dallas Cowboys opened for business. Prior to the official opening in 1971, as a 15-year-old lad I along with my friends from Oak Crest Baptist Church hopped in our rickety church bus for the drive across town from Pleasant Grove to Irving for a pre-opening event — a Billy Graham Crusade. We sat literally on the top row of this gorgeous and shiny new building that in ways resembled a space ship reach to launch. It was an unforgettable evening even after all these years, not to mention the fun we had singing Three Dog Night's "Joy to the World" on the bus trip back home.
And so, with ample help from Jan Sheehan from Tucker Public Relations and long after the iconic stadium's implosion in 2010, this still remembered and recognized venue throughout Texas, the U.S., and the world, lives on even as the land now prepares for the build of Grand Homes and a retail district.
Built in 1971 at a cost of $35 million dollars, it set the standard for future stadiums as the first where fans paid for its construction by purchasing bonds (today's equivalent of personal seat licenses).
The Cowboys played at Texas Stadium for 37 years, amassing a 219–99 record, including 16 post-season games. Of course, it was also the setting for major motion pictures, iconic TV commercials, college and high school football games, concerts and many other special events.
Irving, home to this iconic showplace for running backs and rock stars is celebrating with "50 for 50" – a list of memorable moments at the stadium. See below in case you can use some of them for a story or quick mention.
And the Irving Archives and Museum features a special Texas Stadium exhibit, complete with a multi-media stadium history featuring NFL game footage, archival photos, memorabilia, and even original lockers and stadium seats.
Enjoy (well, I suppose only if you are a Dallas Cowboys' fan)!
Oct 24, 1971
Texas Stadium hosts first football game as the Dallas Cowboys move from the Cotton Bowl to the new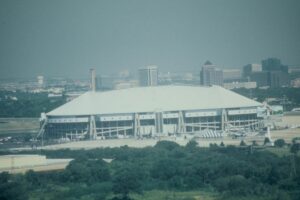 stadium and defeat the New England Patriots, 44-21
Jan 2, 1972
The Cowboys win the first postseason game ever played at Texas Stadium, a 14-3 victory over the San Francisco 49ers in the NFC Championship game. Dallas would go on to win the franchise's first Super Bowl title.
1972-75, 80-81
Home of the Dallas Tornado (North American Soccer League)
Jan. 21, 1973
Hosts the NFL Pro Bowl (O.J. Simpson named game MVP)
June 28, 1974
Brothers and Sisters Tour
(The Allman Brothers Band/Joe Walsh and Barnstorm/Marshall Tucker Band/Molly Hatchet)
July 31, 1974
Crosby Stills Nash and Young/The Beach Boys Concert
Nov 28, 1974
With quarterback Roger Staubach knocked out of the game with a concussion, rookie Clint Longley takes the Cowboys to a 24-23 Thanksgiving Day victory over rival Washington with a 50-yard game winning TD pass to Drew Pearson with 35 seconds to play.
1975-77, 1983-2008
AMA Supercross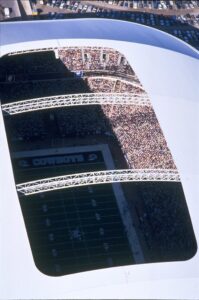 Nov 23, 1975
Created by Cowboys president/general manager Tex Schramm, the Cowboys Ring of Honor is unveiled at Texas Stadium with Hall of Fame defensive tackle Bob Lilly the first person inducted.
1979
"Hey Kid, Catch!" This Coca-Cola commercial, starring NFL Hall of Famer Joe Greene, and filmed at Texas Stadium, is considered one of the greatest TV commercials of all time. The former Pittsburgh Steelers defensive tackle tosses his jersey to a kid, drinks a Coke, and the rest is history.
Dec 16, 1979
In arguably the most exciting game ever played at Texas Stadium, Quarterback Roger Staubach rallies the Cowboys from a 13-point deficit in the final two minutes of the game. In the final minute of the game, Staubach finds wide receiver Tony Hill in the end zone for a game winning touchdown to clinch the NFC East title against rival Washington with a 35-34 win.
1979-1986
Home of the SMU Mustangs (NCAA)
March 31, 1980
Roger Staubach, "Captain America," announces his retirement at an emotional Texas Stadium press conference.
1984-1988
World Class Championship Wrestling (WCCW)
July 13-15, 1984
Michael Jackson/The Jacksons Victory Tour Concert
July 26, 1987
Madonna/Who's That Girl Tour Concert
April 28, 1988
Pink Floyd/A Momentary Lapse of Reason Tour Concert
Sept 17, 1988
INXS/Guns N'Roses/The Smithereens/Iggy Pop/Ziggy Marley Concert
Oct 14, 1988
George Michael/The Bangles Rock the House Concert
April 22, 1989
Tom Landry Appreciation Day/Kenny Loggins Performs
April 7, 1990
Paul McCartney Concert
August 19, 1990
New Kids On The Block/Perfect Gentleman/Rick Wes/Chris Pittman Concert
Nov 21, 1991
Hosts U.S. Men's National Team vs. Costa Rica (soccer)
March 14, 1992
Farm Aid VI – Willie Nelson, Neil Young, John Mellencamp, and more
May 7-8, 1992
Genesis Concert
Sept 5, 1992
Metallica/ Guns N'Roses Concert
Oct 11, 1992
The Cowboys defense, nicknamed Doomsday II, held the Seattle Seahawks to 62 total yards. Dallas would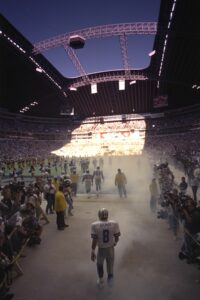 go on to have the #1 ranked defense in the NFL on the way to winning the Super Bowl.
Oct 16, 1992
U2/The Sugarcubes/Public Enemy Concert
Sept 24-25, 1993
While filming a concert at Texas Stadium for an NBC special that would air the following year, Garth Brooks unleashed rings of fire, simulated lightning and rain and most unbelievably – flew by wires from the 200 foot high ceiling reinforced by the now famous "Garth Bars." In all, 26 cameras recorded the spectacle during three evening shows attended by more than 200,000 screaming fans. This event still holds the record for attendance of a country music event by a single artist.
1994-1995
Professional Bull Riders (PBR) – Battle of the Bulls
Jan 14, 1994
The Cowboys defeat the San Francisco 49ers 38-21, in route to repeating as Super Bowlchamps. Dallas sends an NFL record 11 players to the Pro Bowl.
April 28-29, 1994
Pink Floyd Concert
July 3, 1994
Eagles/Melissa Ethridge Concert
April 2, 1995
Billy Joel/Elton John Concert
Jan 4, 1996
The Cowboys claim their 8th NFC Championship with a 38-27 win over the Green Bay Packers. Dallas would go on to win the franchise's fifth and last Super Bowl title to date.
Nov 27, 1997
Reba McEntire electrified the Thanksgiving Day crowd as the inaugural halftime performer for the first Red Kettle kickoff for The Salvation Army.
June 6, 1998
George Strait/Tim McGraw/Faith Hill/Lee Ann Womack/John Michael Montgomery/Asleep At The Wheel/Lila McCann Concert
1999
The hit movie Any Given Sunday was filmed at Texas Stadium. Directed by Oliver Stone, the film's ensemble cast featured Al Pacino, Cameron Diaz, Dennis Quaid, Jamie Foxx, James Woods, LL Cool J and Ann-Margaret, and tells the story of the fictional professional football team the Miami Sharks. The Sharks' team logo featured on the wall in the visitor's locker room was signed by the director and cast and was moved to the Dallas Cowboys' new stadium in nearby Arlington.
Nov 14, 1999
Shania Twain Concert
July 9, 2000
Korn/System of a Down/Metallica/Kid Rock/Powerman 5000 Concert
April 9, 2001
An emotional Troy Aikman announces his retirement at a packed Texas Stadium press conference
July 8, 2001
NSYNC/Meredith Edwards/Eden's Crush/Dante Thomas/Samantha Mumba
July 15, 2001
Dave Matthews Band/Angelique Kidjo/Wyclef Jean Concert
Dec. 1, 2001
Hosts NCAA Big XII Championship Game (Colorado defeats Texas, 39-37)
Oct 27, 2002
Hall of Famer Emmitt Smith breaks Walter Payton's NFL career rushing record with an 11-yard run late in the game against the Seattle Seahawks. Smith remains the NFL's all-time leading rusher with a total of 18,355 yards and was elected into the Pro Football Hall of Fame.
August 3, 2003
Metallica/Deftones/Limp Bizkit/Linkin Park/Mudvayne Concert
May 29, 2004
Jimmy Buffett/George Strait/Alan Jackson Concert
May 25, 2008
Hosts the First Ever Professional Lacrosse Game in Texas – Philadelphia Barrage vs. Long Island Lizards (MLL)
Dec. 20, 2008
Final Cowboys game at Texas Stadium (vs. Baltimore Ravens)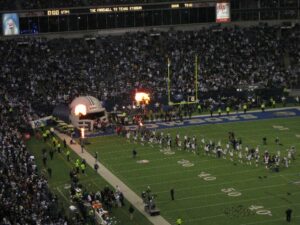 April 11, 2010
Texas Stadium – Last Tailgate Party: The early Sunday morning implosion of Texas Stadium was witnessed by more than 20,000 fans, and watched live by audiences around the world.
"Bonus" Fun Facts About Texas Stadium:
*All five of the Cowboys Super Bowl Championships were won while the Cowboys played at Texas Stadium: 1971 (VI), 1977 (XII), 1992 (XXVII), 1993 (XXVIII), 1995 (XXX).
*Before Texas Stadium officially opened in October 1971, it was the site of "The Greater Southwest Billy Graham Crusade." The 10-day event began on September 17 and included performances by Johnny and June Cash and the Statler Brothers, and on-stage appearances by former President Lyndon B. Johnson and his wife Lady Bird.
*D.D. Lewis, a linebacker for the Dallas Cowboys from 1968 – 1981, may have been voted the "Most Popular Player" by the Dallas Cowboys fans the year he retired, but he will always be remembered for something he said in 1982 – "Texas Stadium has a hole in its roof so God can watch his favorite team play."
*From 1978 – 1991, Texas Stadium flashed on television screens around the world during the opening credits of the famous TV series Dallas, which chronicled the lives of the fictional Ewing clan. As a result, Texas Stadium is arguably one of the most recognized structures in Texas, the United States – and because of the global popularity of the show – even the world.
*Over 700 high school football games were played at the stadium.