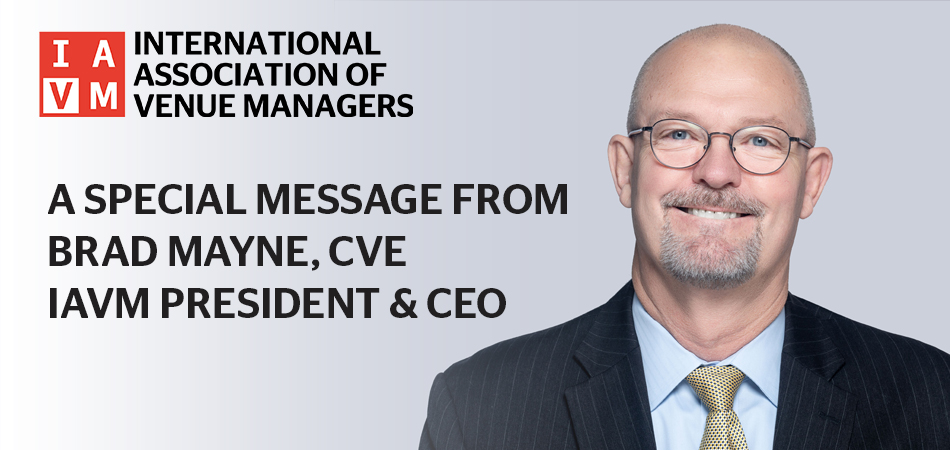 "I wish it need not have happened in my time," said Frodo.
"So do I," said Gandalf, "and so do all who live to see such times.
But that is not for them to decide. All we have to decide is what to do with the time that is given us."
― J.R.R. Tolkien, The Fellowship of the Ring
Now, more than ever, we need to stay healthy and take care of our bodies, minds and spirits. Fear and anxiety are spreading as quickly as the virus, and we as industry leaders are committed to helping our industry stay present, grounded and empowered through this uncertain time. We will continue to take the lead in offering resources and member involvement while using common sense to stay safe and healthy. Though this virus is placing physical distance between all of us, let this be an opportunity to continue to investigate the inspiring principles and spirit of IAVM safely in the ways we can during this time.
Ways to Remain Connected
IAVM membership affords you numerous ways in which you can remain connected during this trying time. The following tools will provide you with access to your fellow industry leaders and colleagues, to ask questions, read information on how others are succeeding and learning, not just during the trying times of COVID-19, but in all aspects of venue management:
Build Your Expertise
You can continue to build your own knowledge of the industry and enhance your professional development by utilizing the online resources IAVM offers.
Impact of COVID-19 on IAVM Scheduled Events
IAVM is closely monitoring advisories and updates regarding COVID-19 from the CDC, DHS, the WHO, other associations, as well as healthcare and regulatory organizations. Decisions regarding each IAVM event are being determined independently, as factors affecting one event may not affect another. The following is what we have determined as of today:
Senior Executive Symposium (SES) is being rescheduled for the week of October 18th – 22nd and will remain on the Cornell campus. Those currently registered will be automatically rolled over to the new dates. If you are unable to attend, IAVM will refund you 100% of your registration fee and room and board up until August 1st. Registrants unable to attend the new dates can also choose to roll over fees paid to the 2021 SES event. All necessary cancellations will need to be submitted in writing noting the reason for your cancellation to meetings@iavm.org.
Venue Management School and GI (VMS) remains on its current schedule while we continue our due diligence to determine next steps.
VenueConnect 2020 remains on its current schedule in July. We will continue to monitor the situation and make changes as they evolve. Members will be informed should any changes be made.
What Our Members/Member Venues are Doing to Serve Communities
One of the things that our membership does best is to volunteer to give back to their local communities. During the recent town hall webinars, many of those in attendance volunteered how they themselves, or their venues at large, were giving back to those who need it during this difficult time. A few examples included:
Venues using food previously ordered for events to provide items needed to their furloughed staff and the less fortunate in their local areas.
Venues offering their staff and on-site security personnel to assist with the delivery of supplies to those who need it.
Coordinating with local authorities and health officials to explore how to best serve their communities' needs during this unique situation. As events are rescheduled or cancelled, exploring alternative uses for their venues based on their community needs.
Becoming makeshift centers for the elderly, and potentially even overflow for local healthcare facilities as needed.
These are just a few examples of how you and your colleagues are giving back. We want to know what your venue is doing as well! Please let us know by posting your stories of how you are helping out in VenueNet so that others can see how they too can use this difficult time to serve others.
We all need inspiration and super heroes at this time. We know you will follow and engage with the whole of venue professionals through VenueNet and social media channels. IAVM is not just an association, it is a family of 7,000+ colleagues. Keep reaching out to each other, and do not hesitate to reach out to your IAVM staff and leadership, should you need assistance.
While the timeframe for this chapter is uncertain, let's take heed from Gandalf: "All we have to decide is what to do with the time that is given us."

Brad Mayne, CVE
IAVM President & CEO