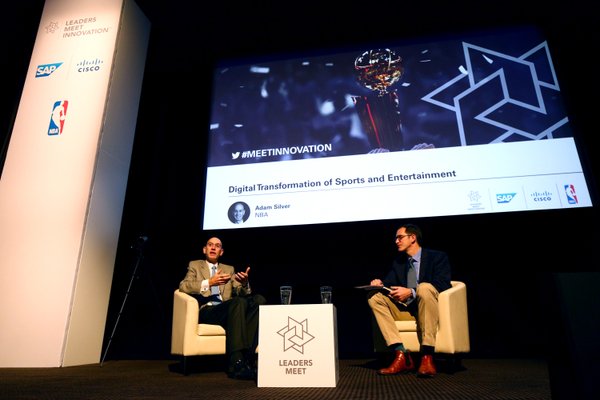 NBA Commissioner Adam Silver spoke yesterday, January 14, at the Leaders Meet Innovation event in London, England, about how technology is changing the business of basketball, both on the court and off. In addition to topics such as player tracking and analytics, he spoke about apps and arenas.
"If you watched a game at home, you would have access to a lot of information that you wouldn't have while sitting at the game – that struck us as getting things backwards," he said, as reported by Patrick Burgoyne for Creative Review. "The people who were paying the most money and who are the most devoted fans didn't have the same access to information as those at home."
Silvers said that apps can provide a "driveway to driveway" game day experience. For example, fans can access the best driving routes to an arena, best parking choices, and best entrances to use, all through an app.
"Because we know where that fan is in the arena and their prior habits, we know if somebody likes to buy a hotdog before the game, so there's a discount for them," Silver said. "We know if they are a fan of a particular player, they might want to buy a jersey, so a promotion comes up for that jersey and it can be delivered to their seat. The opportunities are endless."
For more on Silver's thoughts about virtual reality ("a game changer") and live streaming, please read Burgoyne's article in Creative Review.
(Image: Twitter)