By Julian Bowman
AECOM, the world's trusted infrastructure consulting firm, announced that it has been selected by Fair Park First to provide program management services for major capital improvements to Fair Park, a 277-acre, cultural and entertainment complex in the heart of Dallas, Texas. AECOM will support Fair Park First's capital projects to deliver outcome-driven solutions and a lasting legacy through enhancements that create and integrate park facilities, preserve historically significant venues, and revitalize the park as a destination within the region and beyond.
"Fair Park First brings a bold, inclusive vision to revitalizing this storied urban asset at a time when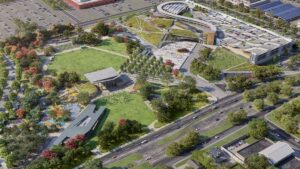 investment in equitable spaces has never been more important," said Lara Poloni, AECOM's president. "In line with our Sustainable Legacies strategy of partnering with clients to make a lasting, positive impact, we're committed to improving social outcomes at each step of the program by working with minority- and women-owned enterprises and surrounding businesses to create real, measurable value and help make Fair Park a reflection of Dallas's diversity and dynamism."
AECOM will oversee the delivery of the upcoming Community Park Complex, an expansive 18-acre greenspace that also includes a 1,650-space parking structure. AECOM will partner on future projects by managing design, construction, permitting, and closeout, among other services. As part of a series of improvements informed by the Fair Park Masterplan Update, these efforts will support the construction and modernization of multiple facilities and an overhaul of general infrastructure with an emphasis on resilience and sustainability. As the program's signature addition, the Community Park will embody a climate-conscious approach, introducing a vital new recreational space to Fair Park while expanding blue-green infrastructure to mitigate flooding and other environmental risks.
"We're proud to partner with Fair Park First to modernize this National Historic Landmark and help deliver a world-class space that deepens community connections and contributes to the ongoing transformation and rich cultural heritage of the city of Dallas," said Drew Jeter, chief executive of AECOM's Program Management global business line. "Leveraging our decades of experience managing complex urban developments and industry-leading global expertise, our teams are poised to help Fair Park First realize this community-centric project and extend Fair Park's legacy as a vibrant gathering space."
Established in 1886, Fair Park has become a major destination for Dallas, drawing more than six million visitors annually. In addition to supporting regular programming and events, it is home to several prominent attractions, including the State Fair of Texas®, the African American Museum of Dallas, Cotton Bowl® Stadium, and the Hall of State—as well as containing one of the largest collections of exhibition style Art Deco structures in the United States. The capital improvements for Fair Park are part of Fair Park First's revitalization campaign to put the "Park" back in Fair Park.
"We are thrilled to announce the addition of another world-class firm to our capital projects team," said Fair Park First Board President Darren L. James, FAIA. "With this new partnership, we can continue the work of putting the park back in Fair Park and restoring it to its rightful place as an international attraction."
Julian Bowman is Senior Director of Marketing at Fair Park and Cotton Bowl Stadium for Oak View Group.