On December 8, 2018, the Los Angeles Convention Center (LACC), owned by the City of Los Angeles, celebrated five years of successful operations by AEG Facilities Management.
The public-private partnership has exceeded expectations and established the LACC as an integral centerpiece of convention and special event development in Downtown LA.
When AEG Facilities was awarded the management contract in 2013, the privately-owned company set out to increase the number of events, increase revenues, reduce expenses, as well as make capital improvements to the aging facility.
With nearly 250 events and 2.5 million visitors per year, the LACC is now generating approximately $781 million per year in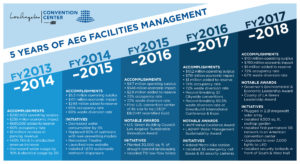 economic impact for the City of LA and has built an operational profit of $35.6 million in five years, much of which has been reinvested in the convention center.
The City also requested that AEG Facilities build a financial reserve of $2.1 million within the five years of its management agreement. This goal was exceeded in less than two years with the reserve currently standing at $8.1 million. Other aggressive goals set by AEG include implementation of environmentally conscientious practices and building renovations, improvement of food & beverage services, increase in event bookings, and strengthened relations with the Los Angeles Tourism & Convention Board (L.A. Tourism).
To celebrate this momentous anniversary, five executives weigh in on five years of success at the LACC:
"AEG Facilities has been an ideal partner for the City of Los Angeles in the management of the LACC," said Jon Vein, president of the Board of Los Angeles Convention and Tourism Development Commissioners. "The LACC team has been incredibly efficient, having taken the budget from a deficit to a significant annual operational surplus in a very short period."
"The LACC serves as a powerful economic engine for the City of Los Angeles; its success is integral to the vitality of our local economy," said Ernest Wooden Jr., president & CEO of L.A. Tourism. "L.A. Tourism has helped secure a record number of citywide conventions at the LACC during the past five years and through our strong partnership with AEG, we will continue to promote the LACC around the world as a premier site for meetings and conventions."
"We have experienced the most success in the LACC's 47-year history through our partnership with AEG Facilities," said Doane Liu, executive director of the City of Los Angeles Department of Convention and Tourism Development. "The occupancy rates increased from 53 percent to over 70 percent; the continuous prosperity of the LACC demonstrates the excellence of this public-private partnership."
"Since 2013, AEG Facilities has implemented numerous revenue generating, efficiency and service delivery improvements at the LACC," said Brad Gessner, senior vice president of the LACC and Convention Centers at AEG Facilities. "In partnership with the City's Convention & Tourism Development Department and L.A. Tourism, AEG has increased event programming and occupancy, elevated the guest service experience as well as made significant building improvements to the convention center resulting in record economic impact for the City of Los Angeles."
"In five years, we have been honored to be recognized with 30 awards," said Ellen Schwartz, AEG Facilities general manager of the LACC. "This past year was especially significant when we received the state's highest environmental honor, the Governor's Environmental and Economic Leadership Award (GEELA). Additionally, we plugged in a 2.21 megawatt solar array that will save close to $500,000 annually and unveiled an innovative 9,500 square foot rooftop garden. These accomplishments serve as a catalyst to continue to push boundaries to make the facility best in class. We are proud to be part of this historic anniversary at the LACC and we look forward to celebrating more initiatives and continued success of this partnership."