Further expanding its global footprint, AEG Facilities has been selected by Antel, Uruguay's leading telecommunications company, to manage and operate a new state-of-the-art arena in Montevideo, Uruguay. Set to Open by mid-2018, the 10,000-seat state-of-the-art indoor venue will be home to world class competitions in basketball, tennis, futsal and other sports, as well as concerts, family shows, festivals, corporate and special events.
The project will be overseen from AEG's office in São Paulo, Brazil, with additional resources provided by AEG's offices and venues globally.
Javier Emicuri, Antel´s CEO commented, "This new state-of-the-art arena is destined to be the home of the most important sports,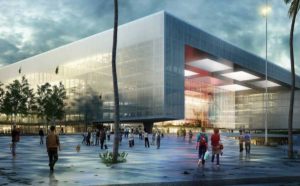 music and entertainment events, fairs and conventions, said Javier Emicuri, Antel's CEO. "Our goal for this venue is to provide Uruguay with the best infrastructure to become a reference place in South America to host these major events, and with a strong partner like AEG at our side, we are confident we will achieve this."
As part of the comprehensive management agreement signed by representatives of Antel and AEG, AEG Facilities will be responsible for all aspects of the arena's operations beginning with directing all pre-opening functions including overseeing the hiring and training of the venue's full staff and planning and executing the arena's grand opening while managing key departments such as event operations, sponsorship and premium seating sales, booking, security, ticketing, guest services, marketing, public relations, finance, human resources and overall event management.
Chuck Steedman, AEG Facilities' Chief Operating Officer who joined the Antel Board of Directors at the announcement said, "We applaud Antel and the government of Uruguay for designing and building this great indoor arena. Antel Arena will immediately take its place at the head of the class for indoor venues in South America and will set the standard for excellence on the continent. We are thankful for the opportunity to work with Antel and the people of Uruguay to provide the best in world-class sports and entertainment."
Leading AEG Facilities' team in South America is Venancio Castro, who joined the company in 2014 as Executive Director, AEG Facilities. In this role, Castro is responsible for day-to-day management of AEG Brasil's corporate staff and office in São Paulo, as well as overseeing AEG Facilities' venue growth and operations throughout the region.