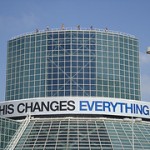 For the first time in its 42 years of operation, the city-run Los Angeles Convention Center will transfer to private management under a pact approved by the City Council.
In awarding a contract to Anschutz Entertainment Group, the council overruled objections by local hoteliers who said AEG would have an unfair advantage filling its hotel rooms while booking conventions.
AEG owns the JW Marriott and Ritz Carlton hotel complex adjacent to its L.A. Live and Staples Center properties in downtown Los Angeles. But council members, after questioning city Chief Administrative Officer Miguel Santana, unanimously voted in favor of the contract.
"It's a marriage that's appropriate to move forward on," Councilman Tom LaBonge said. AEG's expertise in operating entertainment venues would "create a synergy that will make a big difference." AEG's worldwide portfolio includes more than 100 companies offering entertainment, sports and exhibition venues.
Santana said hotel bookings would primarily be handled by the Los Angeles Tourism & Convention Board, a nonprofit entity separate from AEG. AEG offers a professional management team that can reduce operating costs at the Convention Center and respond more quickly to changing industry demands, he told the council.
"We have an ambitious plan to take the Convention Center to the next stage and will be focused on driving more hotel activity citywide."
AEG agreed to interview current Convention Center workers who want to continue with AEG, but employees also have the option of switching to other jobs in the city. AEG will also present three candidates for a general manager position, now vacant, and give the city final say on who gets the post.
"We have an ambitious plan to take the Convention Center to the next stage and will be focused on driving more hotel activity citywide," Ted Fikre, an AEG vice chairman. "We think there's a lot of room for improvement."
photo credit: Fabio_Santana via photopin cc