From celebrityaccess.com
AEG Global Partnerships, the sponsorships division of AEG, announced the completion of its first naming rights deal after brokering an agreement that will see international bank UOB become the inaugural marquee sponsor for the new entertainment venue UOB LIVE in Bangkok.
Scheduled to open in February 2024, the state-of-the-art 6,000-capacity venue will host live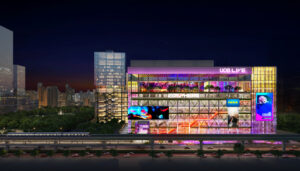 performances, major sporting events, and concerts by internationally recognized touring artists. Along with entertainment offerings, the new venue will anchor a retail district that includes shopping, restaurants, and other amenities, AEG Global Partnerships said.
The deal brokered by AEG Global Partnerships is the division's first major announcement for Asia-Pacific after the company expanded its operations into the region in October 2022.
In addition to the partnership in Thailand, the AEG Global Partnerships team is currently seeking naming rights partners for the company's new, state-of-the-art, multi-purpose arena projects in Nagoya and Osaka in Japan, and a new 20,000 seat arena in Seoul, Korea.
"UOB is leading the way by taking on the naming rights to one of AEG's new portfolios of world-class live entertainment venues across the APAC region. The partnership marks the first of its kind in Thailand, associating UOB's name with Bangkok's premier live entertainment venue, and providing the company with opportunities to build deeper relationships with its customers," said Matthew Zweck, Vice President – Asia-Pacific at AEG Global Partnerships.
"Our global partnerships business is unmatched in terms of its ability to offer partners access to unique platforms to engage with customers, and we are delighted to further expand these opportunities in the APAC region. With new venues scheduled to open across Thailand, South Korea, and Japan in the next couple of years, more brands will be able to take advantage of the immense value that naming rights and venue partnerships can add for their businesses and their customers," added Paul Samuels, Executive Vice President at AEG Global Partnerships.
"UOB LIVE marks a significant leap in transforming live entertainment for our customers. With AEG's global expertise and The EM District's leadership position in the local market, we will redefine the entertainment landscape in Southeast Asia," concluded Tan Choon Hin, President and CEO of UOB Thailand.