The Major League Soccer Minnesota United played its first game at its new Allianz Field against the New York City FC, a 3-3 deadlock held under bright evening lights.
Allianz Field seats 19,400 and cost $250 million after breaking ground in June 2017. The St. Paul-based club assumed management from construction manager Mortenson earlier this year.
"The club has done an incredible job of catering it to everything we need," United coach Adrian Heath said in a prepared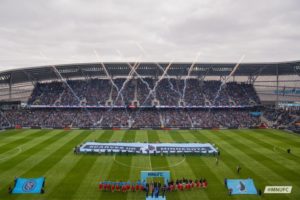 statement. "I know the supporters are going to be impressed with everything that they've got. I can say from the professional's point of view, and I've been doing this since I left school at 15: We've got everything that we need. This is as good as anywhere in the world."
United previously played home games at TCF Bank Stadium, home to the University of Minnesota's Golden Gophers. Attendance in the team's final season was 23,902. The team plans to sell up to 2,290 tickets in a standing-only section in the south end of the new stadium.
"You look from the outside and it's just a beautiful piece of architecture," United veteran midfielder Ethan Finlay said. "Then you walk out of the tunnel and you can see the detail. It's truly going to be a special place for years to come."
United managing director Bill McGuire added that the stadium "will bring soccer, the world's game, to our community in a long-lasting way, with a vision that says we want the future to be better than the past."