By Melinda Landry
Amarillo (TX) Civic Center Complex Marketing Administrator Han Owens has fulfilled a dream in earning United States citizenship.
"The process is hard because you have a gazillion paperwork to do," the newly minted citizen said. "You can't help but to wonder and worry because your loved ones are here and you don't want to leave them here."
Han, who grew up in Taiwan, came to the United States as a high school exchange student in Denton, Texas. She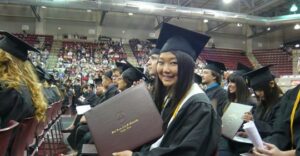 stayed to attend, and later graduate from West Texas A&M University in Canyon, Texas. After she earned her bachelor's degree in 2011, she started a job with the ACCC and got married in 2012. Han's new goal was to become a citizen of the United States. She applied for the Green Card process and said that she never expected that she'd spend the rest of her life in the U.S., receiving citizenship. Han passed her naturalization test in November and completed her Oath of Allegiance at a Naturalization Ceremony on January 7, 2019.
Han is married to Texas native Nathan Owens. The couple has a two-year-old daughter named Addelyn Rose and two dogs, Raiden and Samantha.
The Amarillo Civic Center Complex staff is proud to be a part of Han's legacy.
Melinda Landry is Event Manager for the Amarillo Civic Center Complex.