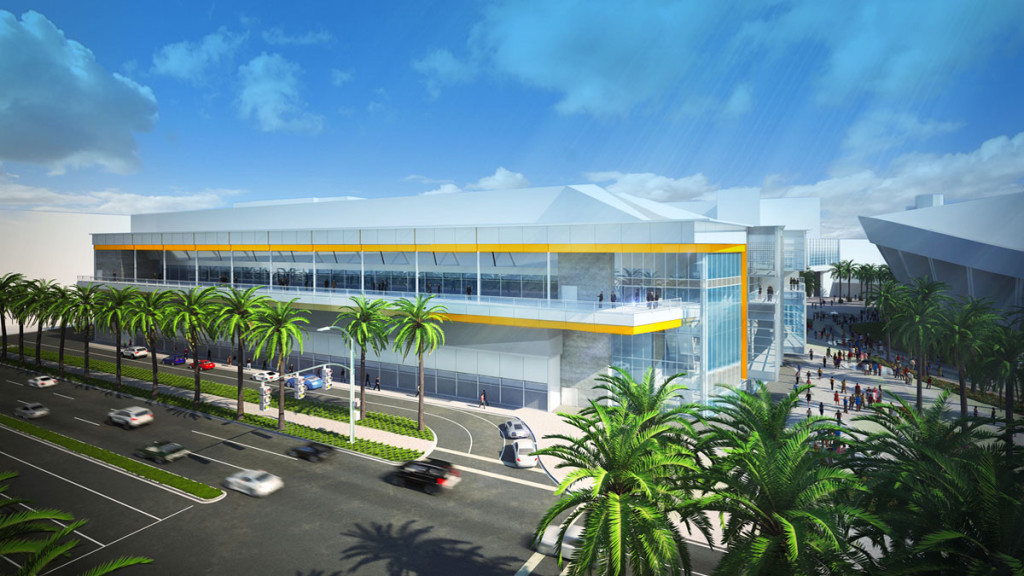 The Anaheim Convention Center broke ground on its new expansion today, April 21, 2015. When it is completed in summer 2017, there will be an additional 200,000 square feet of flexible event space (100,000 square feet will be column free), along with new loading docks and a climate-controlled connection to the existing center's second level.
Turner Construction Co. and Populous are providing the design-build services for the expansion.
"We are proud to partner with Turner Construction and Populous as we embark on the seventh expansion of the Anaheim Convention Center," said Tom Morton, executive director of convention, sports, and entertainment for the City of Anaheim, in a statement. "Our design-build partners provided a concept that is the gold standard in flexible space and will meet the needs of our convention business today as well as into the future. This is a tremendous opportunity for the City of Anaheim to remain a leader in the convention and meeting industry."
The expansion will provide an economic stimulus to the region by involving local workers during all phases of construction, and will employ 300 trade workers at the peak of construction activity. The expansion will also help Anaheim retain and attract large exhibitions and encourage further tourism to the region and support local hotels and restaurants.
"The renovations at Anaheim Convention Center are an important step in telling a big and powerful story about Anaheim and its people, climate, beauty, and amenities," said Michael Lockwood, principal at Populous and designer of the renovations. "As one of the city's anchor buildings, the convention center connects the urban fabric. This renovation is about far more than a singular building. Instead, the renovation will engage with the city's urban fabric and serve as framework for further connecting civic, sports, and entertainment destinations where people love to be together. We're grateful to have the opportunity to participate in such a monumental project for the city."
Check out the video below to see how it will look when it's completed.
(Image: Anaheim Convention Center)