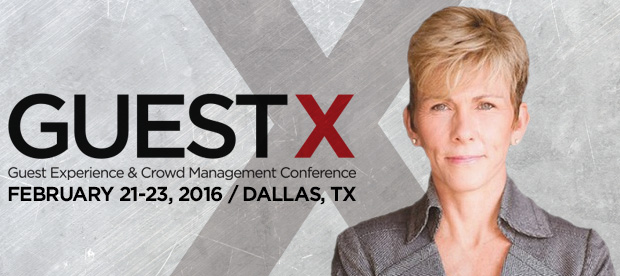 We're happy to announce some programming notes for GuestX, Feb. 21-23, 2016, in Dallas, Texas.
One of the most popular and informative sessions last year was led by Jennifer Blackmon, corporate director of culture transformation at The Ritz-Carlton Leadership Center, and we're pleased that she will be rejoining us for a new session focused on service excellence culture.
"Customer service re-energized is really the starting point on your journey to exceptional customer service," Blackmon said in the video below. "One of the biggest points of that course is our motto, which is we're ladies and gentlemen serving ladies and gentlemen. But throughout the class, we rework that to say we're ladies and gentlemen working with ladies and gentlemen."
Other speakers and sessions lined up for GuestX include our keynote speaker T. Scott Gross, an author and hospitality industry veteran, who will speak on how to sell, serve, and stand out in a digital age; Carmen Day, director of guest experience for the Toronto Blue Jays, who will focus on front line supervisors; Jeff Cockrell from Dale Carnegie Training, who will educate attendees on how to have richer and more meaningful conversations with strangers; and Steve A. Klein, who will help attendees unleash their potential. There will also be a panel of experts from several major league sports leagues discussing how to create a great guest experience and an interactive session led by Gensler on how to design environments for optimal experiences.
Registration is open. Please visit the GuestX website to learn more about the conference and to stay up-to-date on additional speakers and sessions. See you in February!