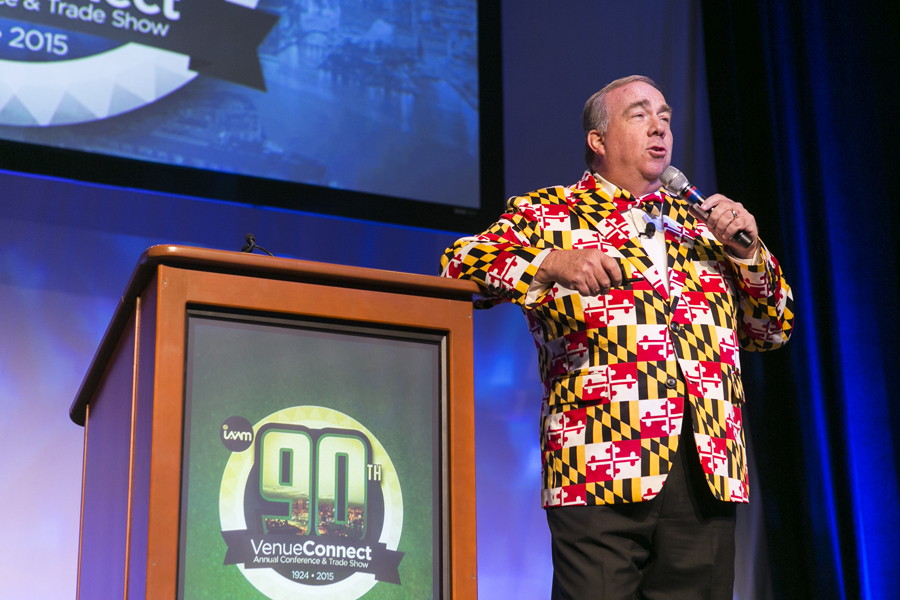 The 2015 Venue Industry Awards Luncheon—sponsored by Ungerboeck Software International and emceed by Chris Bigelow, founder and owner of The Bigelow Companies—took place during the 2015 VenueConnect Annual Conference & Trade Show in Baltimore, Maryland. The awards, hosted each year by IAVM, honor exceptional venues and professionals in several categories.
Venue Excellence Awards
The Venue Excellence Award was created to annually recognize four venue types (convention centers, stadiums, arenas, and performing arts centers) demonstrating excellence in the management and operation of public assembly venues. IAVM takes pride in its members and member venues that excel in providing their communities with a safe and enjoyable space for all types of events.
Stadium Winner:
AT&T Stadium, Arlington, Texas
AT&T Stadium demonstrated excellence in the areas of operations, team building, professional development, and customer satisfaction. It's commitment to implementing customer feedback and excellent guest service practices lead to record attendance and a Level 1 rating from the NFL for safety and security and fan conduct. Moreover, this year's recipient demonstrated its commitment to the betterment of the larger venue industry by providing fellow venue professionals training and professional development opportunities.
Performing Arts Center Winner:
AT&T Performing Arts Center, Dallas, Texas
The AT&T Performing Arts Center put into practice its belief that workplace culture correlates to the patron experience. Its Core Values program was created through extensive staff member workshops and roundtable discussion to define the guiding principles of the organization. In addition, the AT&T Performing Arts Center demonstrated its commitment to education through a program called "Backstage Spotlight." This program channeled the interest and raw talent of local high school students through training sessions with industry professionals—starting them on the path of becoming future professional technicians.
Arena Winner:
Swiftel Center, Brookings, South Dakota
The Swiftel Center demonstrated its commitment to the safety and security of its patrons through extensive staff training that included a mass casualty exercise in cooperation with local emergency authorities. Its in-house catering service received the A.B.L.E. Award for its outstanding dedication to fulfill the goals of the Americans with Disabilities Act, and the staff demonstrated great generosity through its annual "Tough Enough to Wear Pink" campaign that donates all proceeds to local patients with, or recovering from, cancer.
"We are incredibly honored to receive the 2015 Venue Excellence Award from our peers who represent some of the best arenas in the world. Thanks to the city of Brookings, our building sponsors, our strong community fan-base, and VenuWorks for the continued support," said Tom Richter, CFE, executive director. "The Swiftel Center truly is Midwest hospitality at its best!"
Convention Center Winner:
St. Charles Convention Center, St. Charles, Missouri
The St. Charles Convention Center displayed a commitment to superior customer service with its "How You Doin" program—creating a working culture that consistently rewards its employees for a job well done. Moreover, the center received its city's "Employer of the year award" and broke several notable revenue records, including highest grossing revenue year, highest grossing food and beverage revenue year, highest grossing event, and highest year of convention revenue.
"This recognition is a true testament to the hard-working dedicated Spectra team at the St. Charles Convention Center," said Spectra's Shura Garnett, general manager and regional vice president, Spectra Venue Management. "At Spectra, we are committed to achieving new levels of operational excellence here in Saint Charles, and we continuously seek new ways to enhance the customer experience at the convention center."
Venue Education Award
The Venue Education Award acknowledges allied organizations, venues, and academic institutions that demonstrate active student involvement, excel in available educational opportunities as well as demonstrate leadership in education. The award also honors individuals who are actively involved in the education and continuous development of the venue management industry.
Winner: SMG Tulsa
This year, SMG Tulsa provided local students real-world venue management experience through its internship and volunteer programs. Moreover, through its sponsorship of a local literary program, SMG Tulsa has assisted in bringing the world of reading to the lives of the approximately 5,000 area elementary students through live theater productions and teacher study guides.
"We couldn't be more honored to accept an award related to our efforts to spread education and teachable moments to our staff and local school children," said Kerry Painter, CFE, CMP, CEM. "We are a company who has written education, mentoring, and constant learning into our core values."
Joseph J. Anzivino Award
Winner: Jack Lucas, president, TicketsWest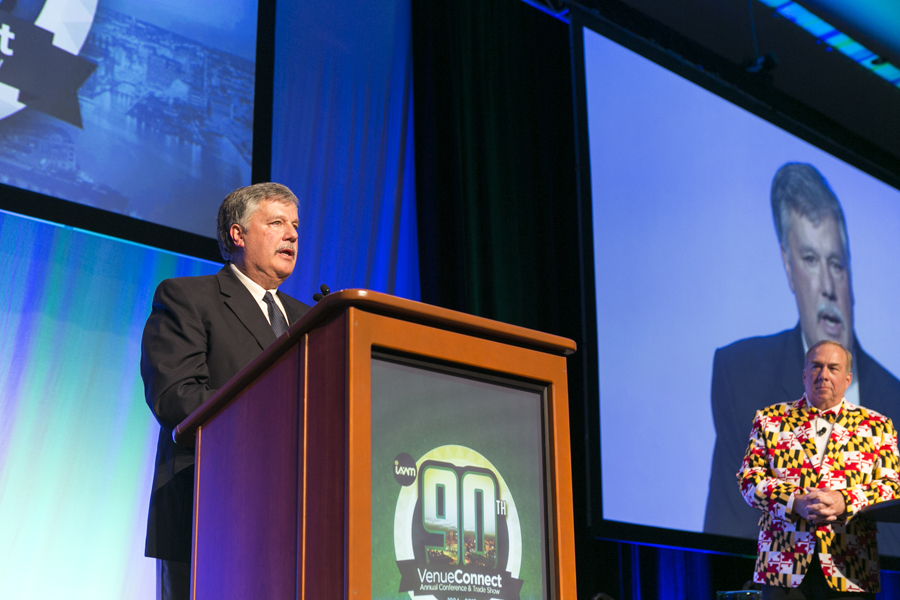 IAVM is pleased to announce Jack Lucas, president of TicketsWest and WestCoast Entertainment, as the recipient of the 2015 Joseph J. Anzivino Award. The Anzivino Award is granted to a distinguished, Allied IAVM member for extraordinary contributions to the Association and the professional venue management industry it serves.
Lucas has been in the entertainment industry for more than 38 years and has been with TicketsWest since 1987. Prior to TicketsWest, Lucas spent 13 years as an event supervisor for the City of Spokane Entertainment Facilities, which included a 2,700-seat performing arts center, a 30,000-seat stadium, an 8,500-seat multi-purpose arena, and a convention center.
Lucas has served on numerous civic boards, including Big Brothers Big Sisters, Lilac Services for the Blind, Goodwill Industries, Eastern Washington University Foundation, and various other organizations.
Lucas' contributions to IAVM have been tremendous. He has been an active member since 2000, serving District 4 as the Allied Representative from 2001-2005, on the Allied Committee from 2006-2010, and on the IAVM Board of Directors from 2010-2012. Lucas also volunteered on IAVM's conference planning committee in 2002 and on the Industry Affairs Council from 2006-2010.
"Jack Lucas is considered 'The Lion King' of IAVM Region IV," said Kim Bedier, CFE, 2014-2015 chair of the IAVM Board. "His support of IAVM has extended far beyond regional borders. I have so enjoyed working and serving with Jack. I have firsthand witnessed and benefited from his leadership, mentorship, and passion for not only our association but the industry as a whole. Jack is more than deserving of this prestigious award."
Leslie Taylor, senior associate at Gensler and IAVM Board of Directors member representing Allied members, agrees.
"Through his unwavering commitment to the venue management industry and IAVM, Jack embodies the spirit of the Anzivino Award," Taylor said. "His leadership of IAVM's Allied Membership is invaluable."
"Jack has made a huge contribution to IAVM during his many years of service," said Vicki Hawarden, CMP, president and CEO of IAVM. "Jack approaches everything he does with high energy and a good sense of humor, and it is a pleasure to see him receive this well-deserved honor."
Upon being notified of receiving the award, Lucas offered the following comments:
"We all know that we do what we do because of our love for what we do, and we do it without expecting anything in return. I have had an incredible career and journey, and IAVM has been a major part of that."
Charles A. McElravy Award
Winner: Steve Peters, CFE, founder and president, VenuWorks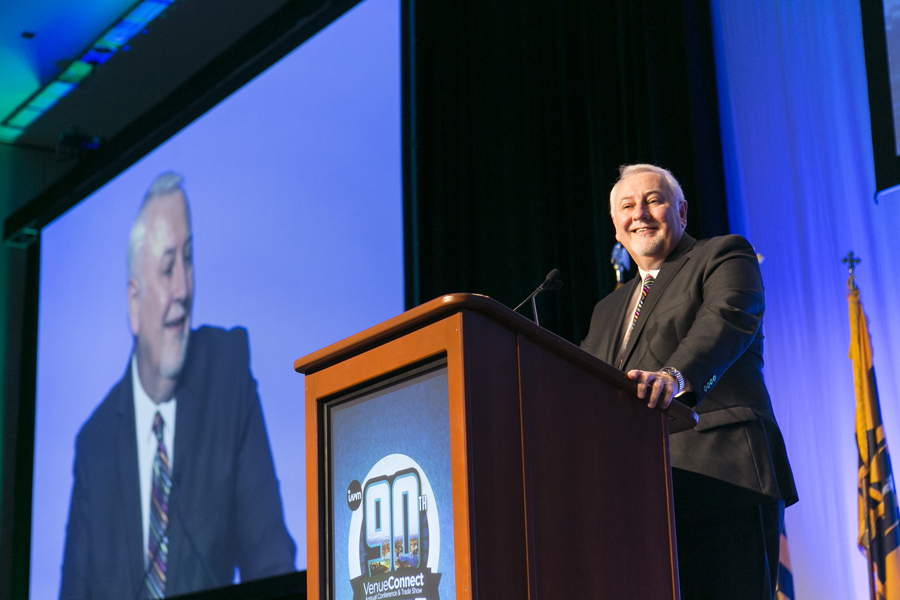 IAVM is pleased to announce Steve Peters, CFE, founder and president of VenuWorks, as the recipient of the 2015 Charles A. McElravy Award. The McElravy Award, named in honor of one of IAVM's founding organizers, Charles A. McElravy, was initiated in 1963 and is granted for extraordinary contributions to the Association and the professional venue management industry it serves.
A graduate of the MFA program in Arts Administration at the University of Iowa, Peters began his career in 1976 in Dubuque, Iowa, as manager of the Five Flags Center.
In 1982, Peters moved on to the Iowa State Center in Ames, Iowa, a four-building complex at Iowa State University (ISU). While at ISU, he began the successful presentation of concerts in the 55,000-seat Cyclone Stadium and served as director of the acclaimed Ames International Orchestra Festival.
In 1990, Peters was named the national director of operations for Ogden Entertainment Inc., serving as opening director of the Target Center in Minneapolis, Minnesota, for Ogden before being named an Ogden vice president in 1995.
In fall 1996, Peters left Ogden to form VenuWorks (originally called Compass Facility Management), a company he created to better serve the unique management and operational challenges of mid-market facilities. Today VenuWorks provides management services to more than 50 theatres, arenas, conference centers, stadiums, and outdoor amphitheaters in 12 states. Peters was a forerunner of bringing private management to publically owned venues in secondary and tertiary markets, which was a new approach in the 1990s.
Peters has been a committed member of IAVM since 1977, serving as president of the Board of Directors from 2007-2008 and as vice president of District 3 from 1987-1988. He was a member of the first board of regents for IAVM's Venue Management School, where he served as an instructor for six years. He has earned the distinction of Certified Facilities Executive (CFE), the highest professional certification available in the public assembly facility industry.
Kim Bedier, CFE, 2014-2015 chair of the IAVM Board remarked that, "Steve Peters' long legacy of leadership with IAVM includes the Mission, Membership, and Governance Initiative. Author Dau Voire said, 'Be brave enough to start a conversation that matters.' The conversations commenced by Steve continue to guide IAVM to a strong and healthy future. Steve Peters is a true gentleman and it has been my honor to serve for and with him."
"It is because of leaders like Steve that IAVM is such a great organization," said Vicki Hawarden, CMP, president and CEO of IAVM. "He has given tirelessly of his time and his expertise throughout the years to help develop and grow those around him, and I know there are many who look up to him as a mentor. He is well deserving of this honor based on his contributions, his leadership style, and his love for the industry."
Upon being notified of receiving the award, Peters offered the following comments:
"I am honored to have been chosen to receive the 2015 McElravy Award. IAVM has been like a big second family to me, a source of professional development and personal friendships for nearly 40 years. I am humbled to find myself among the small group of extraordinary leaders who have previously received this award, an award named for one of the real pioneers of our industry. I am eternally grateful."
(Images: Orange Photography)