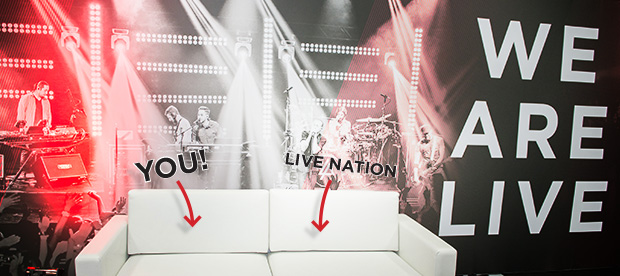 Last year's Live Nation Entertainment lounge and theater session at VenueConnect was such a hit that we're not only bringing it back again, but we're doubling the content. Here's what you have to look forward to when you attend this year's premier venue industry event.
Want More Content – Think Outside Your "Box" (Saturday, 4-5 p.m.)
Got some holes on your booking calendar that you want to fill? Want to learn how you can increase your volume of business with alternative events? Hear innovative "out-of-your box" booking ideas from Shawn Gee with Maverick/Artist Nation and Geoff Gordon with Live Nation Concerts—who have teamed up to produce new content like The Roots Picnic and 50 Years Forward—and what opportunities might lie ahead for venues.
Speakers
Geoff Gordon, president, Live Nation Philadelphia
Shawn Gee, partner of Maverick
Moderated by Michael Evans, president, Live Nation Venues
Secondary and Tertiary Market Secrets to Landing Shows (Sunday, 10:30-11:30 a.m.)
Programming opportunities are hotter than ever, even in tertiary markets. Are you getting the most out of your venue—and maximizing its revenue potential? Join industry pros for insider tips on attracting tours and artists to your venue. This session explores what promoters and artists look for in secondary and tertiary venues. From a unique onsite experience and excellent event support to creative deal structures and turnkey marketing benefits, we'll dig into what matters most.
Speakers
Jon Petrunak, director of business development, Live Nation Entertainment
John Bolton, CFE, vice president, SMG Entertainment, and past IAVM chair
Both sessions will take place on the trade show floor in the Live Nation Entertainment Theater during VenueConnect, August 1-4, in Baltimore, Maryland. Register now!