By APAP
As part of the 50th anniversary celebration of the John F. Kennedy Center for the Performing Arts, Deborah Rutter, President, and Marc Bamuthi Joseph, Vice President and Artistic Director of Social Impact, announced the honorees and participants of "The Next 50" initiative in an Instagram live event on Thursday, January 20, 2022.
Joining a list of luminaries that includes dancer/choreographer Camille A. Brown, comedian/actor Vir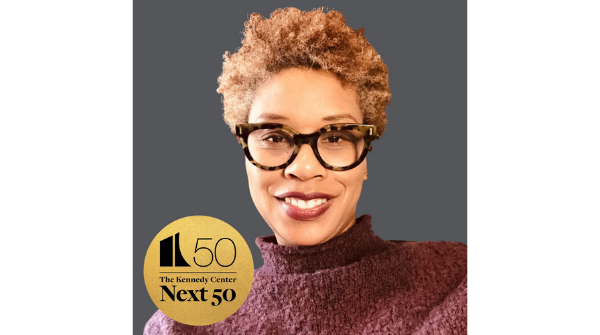 Das, poet Amanda Gorman, world cup champion Megan Rapinoe, and musician Esperanza Spalding, Association of Performing Arts Professionals (APAP) President and CEO Lisa Richards Toney was named among a who's-who of cultural leaders who exemplify the Kennedy Center's mission to help shape culture and society through the arts—with integrity, creativity, empathy, and artistic excellence.
The list of culture-makers imagines a world that identifies and connects the abundance of resources in communities across the nation in an effort to uplift and move us toward a more inspired, inclusive, and compassionate country.
"The Next 50 is an instrument that signals an institutional shift. It's the Center taking responsibility for identifying artists and creatives as national leaders, committing to a process, and offering a platform to see that work through to fruition," Bamuthi said.
"It is an honor to have been selected among the Next 50, and I am inspired by Deborah Rutter's and Marc Bamuthi Joseph's vision," remarked Richards Toney. "I look forward to galvanizing a wide and deep community of performing arts professionals to celebrate, support, stand with, and fight for arts workers as we prepare for our greatest comeback!"
The Next 50 will not only recognize the cultural leadership of these 50 trailblazers and organizations but also create spaces and opportunities for these visionaries to use their talents to put art into action as they influence our communities and create new pathways for the coming generations.
Over the course of the anniversary season, the Next 50 will participate in programs, forums, residencies, and events—such as Arts Summit, the Active Hope Podcast, Millennium Stage—and work with the Kennedy Center to create opportunities for discourse with other leaders to ensure that the voices of artistic and cultural leaders are lifted and heard.
The Center, through its Social Impact program, undertook a comprehensive process to identify the Next 50. Leaning on the public through a crowdsourcing campaign powered by Meta, the Center queried arts educators, arts and culture administrators, and artistic programming professionals to curate a list that ensured representation and diversity in all of its pluralities—a vanguard of culture makers—household names, scions of the cultural sector, and everyday people—who the Center believes, will lead the country into its next 50 years.