By Margo Madden
APPI Energy, a national energy consulting firm specializing in comprehensive energy management strategies for commercial, industrial, government, and non-profit clients, announced that it has merged with Environ, an energy management company specializing in sustainability consulting services. The partnership aims to strengthen APPI Energy's current sustainability and efficiency offerings to both the APPI Energy client base and their Affinity Partners.
Established in 1996, APPI Energy was one of the first firms to provide advisory services on the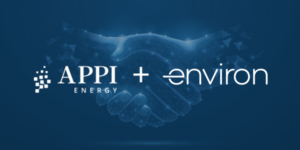 procurement of electricity and natural gas, launching a unique go-to-market strategy and business model that would in time be endorsed by the American Society of Association Executives (ASAE) and national and state trade associations and their more than half a million member companies. The Affinity Partnerships were designed to educate trade associations and chambers of commerce on deregulation in the early years, evolving over time alongside the industry to include more in-depth education on energy management strategies, including sustainability and efficiency technologies and solutions.
With a foundation in assisting commercial, industrial and government entities in deregulated states with the procurement of their electricity and natural gas, it was a natural next step for APPI Energy to expand their services, launching the Energy Solutions Division in 2019. Today, their holistic approach to energy management aims to provide clients with a full suite of energy solutions, an initiative that will be complemented and further strengthened by the new partnership with Environ.
"By merging with APPI, Environ's suite of leading-edge sustainability solutions has found a powerful new market channel consisting of 160 national and state trade associations and their more than half a million member companies," said Mark Mininberg, CEO of Environ. "We could not be more pleased with the APPI team or more excited about the future growth of our combined enterprise."
Being data-driven has also been pivotal to the success of APPI Energy. APPI maintains a proprietary database of more than 250 million pricing data points, enabling their energy consultants to compare historical and real-time prices in every deregulated energy market. Environ's commitment to data-centric, innovative technologies was appealing to APPI leadership, along with Environ's steadfast commitment to providing optimal service while guiding clients through the energy transition.
"The merger of APPI Energy and Environ is the perfect combination of advanced energy solutions and national market access" said Walter Moore, APPI Energy Founder and CEO. "Aligning decades of experience, expertise and corporate cultures built on success and integrity brings a truly holistic set of energy solutions to our clients."
The acquisition was made possible with support from 424 Capital, a growth capital investor that works in partnership with founders and management teams to accelerate and scale for long-term growth.
Margo Madden is Chief Strategy Officer for APPI Energy.