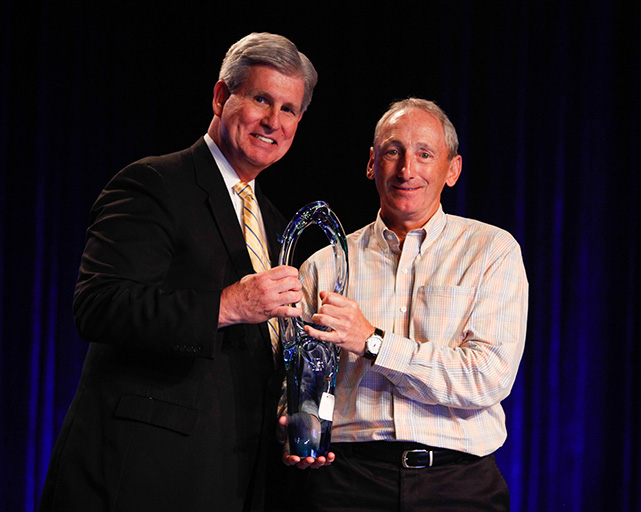 We're accepting Venue Education Award nominations through Friday, May 30. The award acknowledges allied organizations, venues, and academic institutions that demonstrate active student involvement, excel in available educational opportunities as well as demonstrate leadership in education. The award also honors individuals who are actively involved in the education and continuous development of the venue management industry. Self-nominations will be accepted.
Last year's recipient was Maple Leaf Sports & Entertainment Ltd. (MLSE), and the award was accepted by Bob Hunter, CFE (pictured above, right, with Dr. Tim Nash from Northwood University). What made the organization stand out was that it worked with area colleges and universities to develop and execute on formal and rewarding internship programs to the benefit of the venue and educational community and to the students. MLSE also worked with the community in inviting area educational institutions K-12 and beyond to bring student groups through the venue to promote the business, teams, concerts, and events while simultaneously promoting job opportunities and careers.
"This allows students to familiarize themselves with other areas within venue management and network with other employees while contributing to charitable initiatives within the community," MLSE wrote in its application. "It also gives them an opportunity to gain exposure to some unique events such as rink/court/pitch refurbishments, fundraising dinners/galas, and other exciting opportunities for learning, growth and development."
If you're actively encouraging and facilitating educational opportunities for members and future leaders of the venue management industry, then please apply for the Venue Education Award by Friday, May 30.