From StadiumBusiness.com
New renderings have been revealed of 76 Place, a proposed new $1.3 billion arena for the Philadelphia 76ers NBA basketball team.
The 76 Devcorp company, which was set up last July to oversee the project, recently provided an update on the plans.
Architectural renderings of the arena have been produced by Gensler and CBL Real Estate. The Sixers plan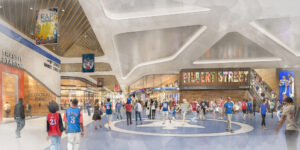 on building the arena on part of the current Fashion District Philadelphia and it is hoped the facility will serve as an anchor for the city center.
The project is still in the early stages, with the timeline foreseeing that construction will not begin until 2028, after the necessary approvals, design process and demolition work is carried out. The arena would then open in time for the 2031-32 NBA season.
The latest information shared by 76 Devcorp is partly in response to feedback the company has had from fans over the past year. The design approach outlined by 76 Devcorp includes an atrium experience that provides a "front door" to Market Street.
Outward-facing retail would also seek to elevate the everyday experience on event and non-event days, while multiple entry points would be created to alleviate congestion and provide optionality.
The Sixers currently share Wells Fargo Center with NHL ice hockey franchise the Philadelphia Flyers. The arena is owned by Comcast Spectacor and the Sixers' lease at the facility is due to expire in 2031, with the team feeling constrained by its current status as a tenant.
The new arena will be privately funded and is expected to cost around $1.3 billion. The Sixers said the arena will provide $1.9 billion in overall economic output during construction and $400 million annually upon opening to support Philadelphia's long-term economic growth and sustainability.
The arena would seat 18,500, slightly less than Wells Fargo Center, which holds 20,478.