IAVM Allied Member Armored Things, an emerging leader in operational intelligence solutions, has named Julie Johnson as Chief Executive Officer. She will assume day-to-day leadership of the company in support of its mission to keep communities safe. Johnson will be responsible for guiding the strategic management of the company. As part of the transition, co-founder Charles Curran will take on the role of President and continue to support key business functions.
Armored Things is building an AI-powered intelligent operations platform. By using data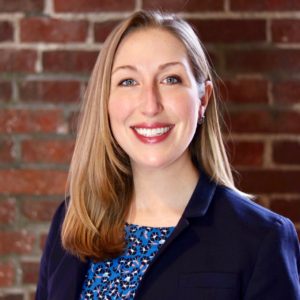 and AI, Armored Things delivers critical context for building operators to make informed decisions. With the help of Armored Things' platform, complex operations are simplified to improve building operations across the board.
As co-founder of Armored Things, Johnson led efforts to raise its $5.5 million in series seed funding led by notable venture firms including Glasswing Ventures, iNovia Capital and MassVentures.
"I look forward to working with Julie as she leads the team in their next phase of growth and development. It is a pleasure to work with someone of her expertise and knowledge to lead the company forward," said Rick Grinnell, Founder and Managing Director of Glasswing Ventures and Armored Things' Board Member.
Johnson brings over eight years of leadership experience in finance, operations, and strategy. Prior to co-founding Armored Things, Johnson was a VC at Qualcomm and Vice President at PIMCO. In both roles, Johnson provided key strategic value to both companies on investment opportunities across various sectors. Johnson holds degrees from the University of Pennsylvania, Wharton, and Harvard Business School. Johnson also currently serves on the Smart Venue Leadership Board at the Sports Innovation Lab and the Public Policy Leadership Council at the Greater Boston Chamber of Commerce.
"I believe deeply in the importance of Armored Things' mission to keep people safe seeing first-hand the impact our technology can have in our customer's lives and in their communities," Johnson said. "I'm excited to continue my work with the Armored Things team and look forward to helping accelerate the immediate and positive impact our technology will have in protecting people."