From Celebrity Access
Venue management giant ASM Global has announced its appointment of Caroline Ginnane as General Manager of Utilita Arena Newcastle (11,000-capacity).
Ginnane is no stranger to the arena as she's been working as the venue's interim GM since September 2022 while simultaneously working as the head of sales and marketing, which she's held since October 2019.
Before Utilita, Ginnane worked in hospitality roles across theatres and arenas in New Zealand and Doha.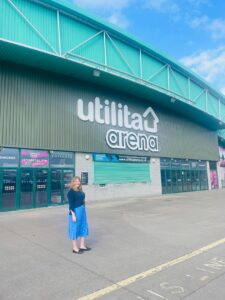 She moved to Newcastle in 2018 and joined Utilita at that time. From April 2018, she served as the SMG Europe head of commercial sales and marketing.
"The North East is an important market for ASM Global – with a busy Utilita Arena and the development of The Sage, and alongside our senior team members like Caroline, we have great confidence for the future here," Ginnane said, "I am fortunate to work alongside an incredibly passionate and talented team, and we will continue to work together to deliver incredible events for the North East region."
Major live music events at the arena this year include Lewis Capaldi, Kiss, and The 1975. Ginnane will also drive staff development and training and support the venue's partners on their charitable giving missions via Food and Fuel poverty and Cash for Kids.
ASM Global is also set to operate The Sage, which is set to open in Newcastle Gateshead Quays and provide an estimated £70m annual boost for the local economy, creating 2,000 jobs.