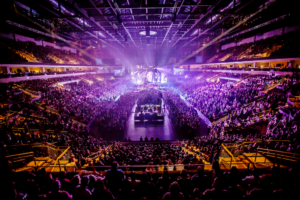 As part of its rapidly expanding ASM Global Acts worldwide sustainability and equity program, the world's largest entertainment- and venue- operating company has announced granting a record number of U.S. college scholarships and additionally unveiled a major global university student program — "GROW" — providing unprecedented opportunities for the industry's next generation of leaders.
Funded by the ASM Global Acts Foundation, ASM Global Stars Scholarship gives students in under-resourced communities across the U.S. educational and career development opportunities, creating accessible pathways to pursue their education and career goals. The program this year has awarded 50 scholarships valued at $125,000 (up from 28 and $70,000 last year) to students in 39 cities (up from 14 in 2022).
The new GROW program focuses on cultivating similar experiences worldwide. It provides the world's largest portfolio of venues with the necessary resources to create internship programs and meaningful work experiences for university students. It fulfills ASM Global Acts goal to provide job opportunities, experienced networks, purposeful work and entry opportunities in the live entertainment business throughout the world.
GROW career experiences are available in marketing, operations, event management, human resources, finance, IT, sales, procurement, guest service, security, and food and beverage.
By the end of 2023, GROW will be hosting over 100 university students around the globe and looks forward to growing that number significantly in 2024.
ASM Global's President and CEO Ron Bension said, "GROW is an acronym for gathering knowledge, realizing your potential, opportunities awaiting and engaging in work that matters. We intend to deliver all of that and more to students who want to be a part of the next generation of leaders in one of the world's most exciting and fulfilling careers: live entertainment."
Shauna Elvin, chief human resources officer, said, "We're committed to curating introductory opportunities and exposure in the universe of venue management throughout our business units internationally. Through engaging hands-on opportunities, students from diverse backgrounds will develop business acumen, grow their professional network, and meaningfully contribute to the organization and brand's growth."
As it continues to elevate the guest experience in its portfolio of arenas, stadiums and theaters, numbering over 350, ASM Global recently completed its second international virtual "collaborative job fair" encompassing five continents that shattered the record for live entertainment job fairs with over 3,000 applicants.
ASM Global leadership hopes that such unique global searches will surface new talent and expand the company's reach within its local communities as the live-entertainment experience continues to prosper.
To learn more and to apply, visit: https://learnmore.scholarsapply.org/ASMGlobalStars