By Danica Tormohlen
As part of ASM Global's new strategic convention and meeting space initiative, the ASM Global managed Huntington Place in Detroit hosted and sponsored the launch of the first-ever EVX on June 22. EV Exchange serves the electric vehicle (EV) and energy infrastructure market—a surging sector with EV sales expected to increase by 37% from 2021 to 2022 in the U.S, according to a forecast by market consultant AutoPacific. Globally, sales of electric cars have increased significantly in 2022, with 2 million sold in Q1, up 75% from the same period in 2021, according to IEA's Global EV Outlook 2022.
With EV sales soaring, local, state and national government officials are seeking infrastructure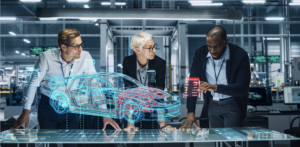 solutions to support U.S. President Joe Biden's goal of EV sales encompassing 50% of auto sales by 2030. At the same time, a lot of work on changing consumer attitudes and beliefs needs to be done to reach this goal, as studies have found that consumers continue to be leery of EVs because they aren't comfortable with the idea that taking a long trip in one requires advance planning and multiple recharging stops, reported by Forbes.
To respond to this burgeoning market need, MAD Event Management and Sitarian Corporation joined forces to produce the first-ever Electric Vehicle + Energy Infrastructure Innovation and Sustainability Exchange conference (EVX).
Held June 22, EVX brought together key stakeholders to network and educate each other about the operations, infrastructure, investment, cost recovery, regulatory, and policy issues with the expanding deployment of EVs and EV infrastructure to execute and achieve goals for effective EV deployment and to meet climate change goals and balance policy issues around ESG.
The event drew 60 invited attendees, including EV manufacturers, private sector infrastructure companies and federal, state and local government officials. Visit Detroit is the presenting sponsor of EVX.
"As electrification becomes crucial to the future of automobility, EV Exchange is the perfect vehicle for Detroit to command center stage as the world leader in automotive innovation," said Claude Molinari, president and CEO of Visit Detroit. "Coming out of the pandemic, we are so proud to host this transformative event."
At a luncheon at EVX, Bob McClintock, executive vice president, convention centers, ASM Global, said, "Welcome to Huntington Place in Detroit, the auto innovation capital of the world." McClintock serves on the EVX advisory board. "As a representative of ASM Global, we are here to support our customers, the venues we manage and the Detroit metropolitan region. We want to facilitate the creation of new products for the communities our building's serve, and we are committed to promoting innovation in growing markets, particularly those that will help with sustainability initiatives.
"ASM Global continues to support the work of industry associations like PCMA, IAEE, MPI, ASAE and SISO; but the EVX launch represents our first investment with an independent organizer," said McClintock. "We have a longstanding relationship with MAD Event Management, and ASM Global's support of their vision for this expanding sector is an indicator of our commitment to the future of meetings and conventions."
MAD Event Management also produces the Long Beach Comic-Con at ASM Global-managed Long Beach Convention Center.
"ASM agreed to sponsor EVX for at least its first two years to allow it time to grow and establish its place in the market," continued McClintock. "We recognize the importance of EV, and we are dedicated to bringing new business to the communities we serve. When MAD approached us about sponsoring, we couldn't think of a better way to support Detroit as the auto innovation capital of the world."
Martha Donato, founder and president of MAD Event Management, agreed. "There's no better city on the planet for the EV Exchange to launch and run this premier EV and next-generation mobility program," she said.
"With support from ASM Global and Visit Detroit, it was amazing to have the opportunity to bring this program to fruition. EVX's mission is to create a positive impact on domestic and global climate and environmental green initiatives," said Paul Sitar, CEO of Sitarian Corporation and creator and director of the EV Exchange."
Danica Tormohlen is a media rep for ASM Global.