When the Atlanta Hawks tip off the 2018-19 season in a few weeks, they will do so at the State Farm Arena rather than Philips Arena. It is the same venue, but a new naming rights deal covering 20 years for $175 million will be in place.
When the building opened 20 years ago it was Philips that had a similar term on naming rights, which is sext to expire next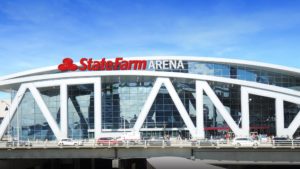 year.
The venue has been quite busy lately after going through a $192.5 million renovation project that has taken place the last two years and on track for an October completion just in time for the NBA schedule.
In a statement, Principal Owner Tony Ressler commented, "We are honored to work with State Farm, one of the nation's most recognizable and civic-minded organizations and want to thank Michael Tipsord and Rand Harbert for their leadership and commitment to this exceptional collaboration. Our ownership group considers the Atlanta Hawks Basketball Club a community asset, and we are excited to have found a partner that shares our vision and has committed to working with us to expand on the community engagement and philanthropic initiatives we do that benefit the many communities that make up this great metropolitan area. Generations will be positively impacted by the work we do throughout Georgia, and we could not be prouder to have the State Farm name on our new arena."