FBI Director James Comey formally recognized 58 individuals and organizations from around the country for their efforts to build stronger, safer, and more cohesive communities at the 2016 Director's Community Leadership Awards in an April 28 ceremony at FBI Headquarters in Washington, D.C. Among the honorees was Paul Turner, CFE, CSSP, senior director, event operations at AT&T Stadium in Arlington, Texas, who also serves as chair for IAVM's Academy for Venue Safety & Security.
"This is one of the very best days in the life of this organization," Director Comey said. "We get to recognize and thank people who made the FBI better and the country better."
The annual Director's Community Leadership Awards were launched in 1990 as a way to spotlight individuals and organizations for their work in combating crime, drugs, terrorism, and violence. Recipients were also recognized for their work in bridging the relationships between law enforcement agencies and the communities they serve, developing strategies to battle the nation's opioid crisis, and assisting victims of human trafficking, among other efforts.
"The FBI Dallas office nominated me for this award for the work that I have done in the sports, entertainment, venue and event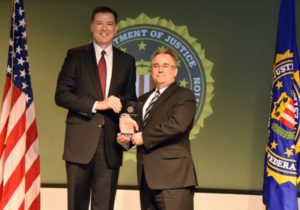 industry," Turner said. "My involvement in IAVM with the Venue Management School and the Academy for Venue Safety & Security were significant elements of my experience and service that contributed to this recognition.
"I am honored to receive the award, but I do so with gratitude that comes from being part of a professional community of caring, talented and committed people. I thank IAVM for all that you do to help our industry and our country by marshalling and guiding the efforts of IAVM members and supporting the Association's programs and activities. Your work matters and is very much appreciated."
Honorees are nominated by each of the FBI's 56 field offices, as well as the Bureau's Office of Public Affairs and the Criminal Justice Information Services Division.
In his remarks, Director Comey said this year's recipients embodied the words attributed to the 16th century minister John Wesley, who said, "Do all the good you can. By all the means you can. In all the ways you can. In all the places you can. At all the times you can. To all the people you can. As long as ever you can."
The Director related a story about speaking to young audiences and warning them against losing sight of what really matters in life. He would ask them to close their eyes, imagine they were old, and then ask themselves: Who do I want to have been? "I know some of you want to have been people who made a difference for those who needed you," he would tell the kids, "to have been people who chose lives of moral content, who stood there for the bullied and the picked on and the frightened."
"Why am I telling you this?" Comey asked. "This auditorium is filled with people who have already answered the question in the most remarkable way. You will have been those people. We're here today to thank you for being that. Because of you, the FBI is better. Because of you, the United States of America is better."
For more on Turner receiving this deserved recognition, click here.