AudienceView announced the appointment of Lawrence Franco as Chief Operating Officer.
Franco brings more than 25 years of experience in B2B solutions with leading organizations to AudienceView. In his new role, he will activate the strategies for AudienceView's growing global operations. Franco also has responsibility for day-to-day management of customer success, engineering and sales as well as AudienceView's media division, which includes TheaterMania and WhatsOnStage.
He joins AudienceView from his role as President, North America of Global Knowledge, a worldwide leader in IT and professional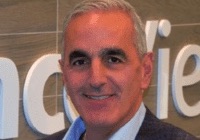 training. Franco's background also includes executive-level roles with a variety of software and insights organizations, including Teranet and Dun & Bradstreet.
"Lawrence is a highly experienced operations executive with an impressive track record established over more than two decades in the technology sector," said Mark Fowlie, CEO for AudienceView. "His proven ability to develop leadership across departments in global organizations will be invaluable in our ongoing commitment to our customers and their success."
"I am extremely excited to join AudienceView and build on the incredible momentum that the company has created," Franco said. "I look forward to working with our talented team to capitalize on our deep technical and industry expertise to drive further efficiencies, support our customers in meeting their individual business goals, and further AudienceView's growth objectives."