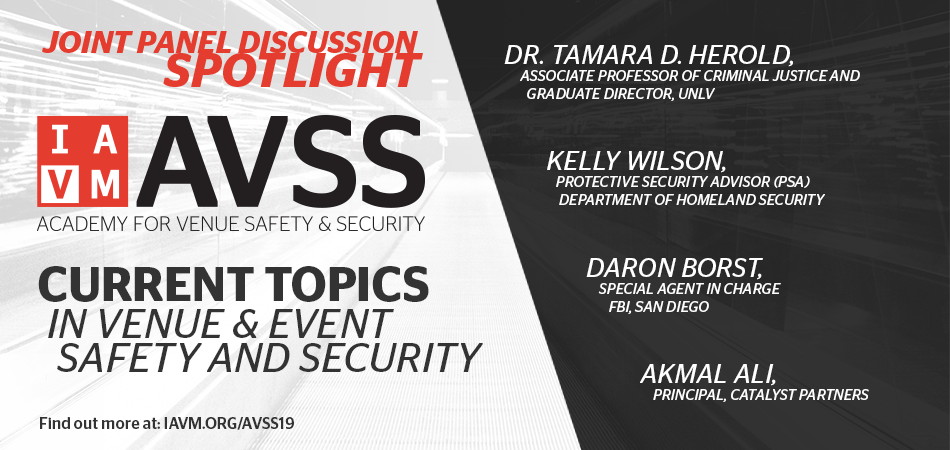 This year's Academy for Venue Safety & Securty (AVSS), March 10-14, will feature a joint panel discussion for Year 1 and Year 2 students that will focus on current topics in venue & event safety and security. The panel will feature experts Dr. Tamara D. Herold, Associate Professor of Criminal Justice and Graduate Director at UNLV, Kelly Wilson, Department of Homeland Security Protective Security Advisor (PSA), Special Agent in Charge Daron Borst, FBI, San Diego, and Akmal Ali, Principal for Catalyst Partners.
"From terror groups calling for attacks on venues and artists, to security concerns involving domestic extremism and lone actors, there are a wide variety of threats and risks venues must consider in today's operating environment," stated Andy Jabbour, AVSS faculty member/panel moderator and the Founder of Gate 15. "With an all-star panel of private and public sector security professionals, our AVSS 2019 Joint Session Panel Discussion will address these challenges and actions leaders can take at their venues to help prevent incidents and mitigate their potential impacts."
Through this panel discussion, AVSS attendees will have an opportunity to learn more about the current topics and concerns facing venues and events today, as well how to address and be better prepared for some of the emerging security issues they may face in the future. In the discussion, panelists will discuss venue threats and risks, incident response, security expectations and preparedness, developing challenges and considerations, as well as other issues and ideas attendees can consider as they return to their venues.
"Safety and Security of America's Soft Targets and Crowded Spaces is a priority initiative for the Cybersecurity and Infrastructure Security Agency," said Kelly Wilson, PSA with the Department of Homeland Security. "As a protective security advisor and member of the community, it is important to me that we can enjoy our community's event venues and know that through public-private sector partnerships, we are all working to make these events safer."
If you haven't already registered to join us in San Diego for AVSS 2019, there are still a few spots available. Click here to learn more or to register!