By R.V. Baugus
Experience counts. And when you add the combined years of industry experience for the newest-minted IAVM winners of the Charles A. McElravy Award, Joseph J. Anzivino Distinguished Allied Award, and IAVM Foundation Legacy Award, there are none better than iconic veterans Beth Wade, CVE, Richard Andersen, CVE, and Tom Cornwall, CVE, who respectively were honored on Wednesday morning during VenueConnect.
Cornwall took the stage first to accept the Foundation Legacy Award. The Retired member encouraged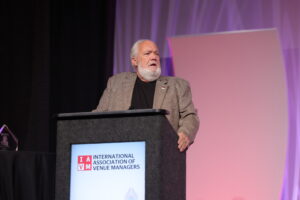 those in the large crowd to do what he did, begin donating to the Foundation with what you can and increase from there. Wise words from one who served as co-chair of the Foundation Silent Auction in 1997-98 and has supported the Foundation since the mid-1980's.
"I learned early on that the Foundation doesn't just exist," Cornwall said. "It needs our help and support. I got in the habit of giving annually so programs could continue in developing new ideas. If you're getting started, consider reaching in your pocket and giving $10 or $15 a month."
Cornwall retired after a 44-year career and during the 2020 pandemic worked in Edmonton in the National Hockey League "bubble" during the Stanley Cup playoffs, where he "hibernated" for 92 days.
"I consider this my Stanley Cup," Cornwall appropriately said.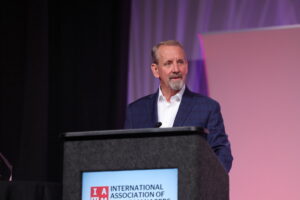 Richard Andersen – speaking of appropriate – was introduced by Russ Simons, CVE as a "hybrid" who has served on both the Professional and Allied side of the industry. Along with his better half, Kim Bedier, CVE, who also introduced Andersen, the remarks from the honoree touched on many of the consistencies in his life that have enabled Andersen to become one of the industry's most highly regarded and successful practitioners.
"So many people have come alongside me in my career," Andersen said. "All of us have special ones in our life."
Andersen asked the audience for 15 seconds of silence to reflect on those who have helped them in their lives and careers. "Whomever you were thinking of, imagine how pleased they are right now," Andersen said.
"'Things' didn't make me any happier," Andersen said. "I learned a long time ago to check my ego at the door, as Russ would say."
Before finishing his introduction to Charles A. McElravy Award winner Beth Wade, Michael Marion, CVE, was compelled to share one story from a Region 5 story involving Wade, noting that she referred to him as "my best girlfriend in a macho kind of way." (Note: Marion introduced Wade as "my best boyfriend in a girlie kind of way.")
"I am extremely humbled," Wade said. "I am extremely proud to have been an IAVM member since 1981. I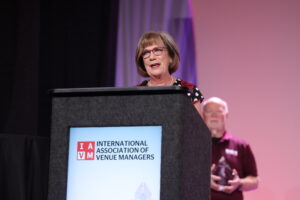 have learned through the years that we have the ability to make change a reality."
Wade stressed the importance of completing surveys when IAVM sends them. She also stressed the value of earning the CVP or CVE designation. "I encourage you to get certified to communicate your value of venue professionalism."
"When I think about the true pluses of IAVM I know I can pick up the phone and call anyone in the world," she continued. "It is what make us unique, special, and why IAVM was formed."
Speaking of the Association's formation, Wade talked about her days working in Memphis and about award namesake McElravy and his work in Memphis. Wade said that McElravy was one of the early creative agents of change in the industry.
"I found an IAVM book from 1925-75 with references to McElravy when he took his job at the civic center," she said. "He laid pipes on the floor of the civic center to do ice shows."
"My support for IAVM will not end when I go to the Arena in the sky" Wade concluded. "I would like for scholarships to be established to help members from tertiary markets be able to go to schools and programs."