By R.V. Baugus
So it is 3:15 a.m. and you are having trouble sleeping. You are a huge Baltimore Ravens fan and, by gosh, you have tickets for the upcoming home game and really wanting to know where in M&T Bank Stadium you can find a beloved crabcake. What to do, what to do?
Welcome to what the team and venue dubs a new virtual assistant/virtual concierge/chatbot known as FlockBot. Yes, get out of bed, oh restless one, and hop on to your phone or computer and talk to a real interactive virtual assistant to answer that question and many, many more 24 hours a day and seven days a week.
It is another frontier in which technology is taking us while ensuring that the customer experience now goes WAY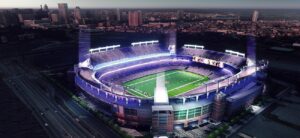 beyond just entering and exiting the gates following a game.
The Ravens make it easy for fans to connect with FlockBot through the Ravens Mobile app as well as the team's website. Flockbot is designed to answer questions about the stadium, tickets, gameday and team information. Oh, and of course where to go in the stadium to find your favorite food fare.
If those immediate responses aren't to your liking (hey, who says at 3:15 a.m. our mind isn't a bit foggy), fans can in fact be connected to a real person if necessary.
Team Director of Digital Media Dave Lang said, "We're always thinking about how we can utilize technology to enhance the fan experience — both inside and outside the stadium. Our hope is the FlockBot will help us to improve customer service by more rapidly responding to fans' questions and concerns."
The team's newest technology comes on the heels of a completed $120 million renovation of the stadium last July that focused on the fan experience at the 71,000-seat stadium and included the installation of new 4K UHD video displays, escalators and elevators, new sound system, upgraded kitchen facilities, redesigned club level, and updated suites.
As far as FlockBot, look for it to be extremely busy in the days ahead as the 12-2 Ravens have not only run away with the AFC North but boast a likely NFL Most Valuable Player in quarterback Lamar Jackson.
"FlockBot, where will the Super Bowl be played?"